Space of Urgency (SoU) is a global platform and grassroots movement of self-organised cultural spaces and their communities, that empower one another and build resilience by sharing stories, skills, knowledge and tools for tangible solidarity in times of crisis.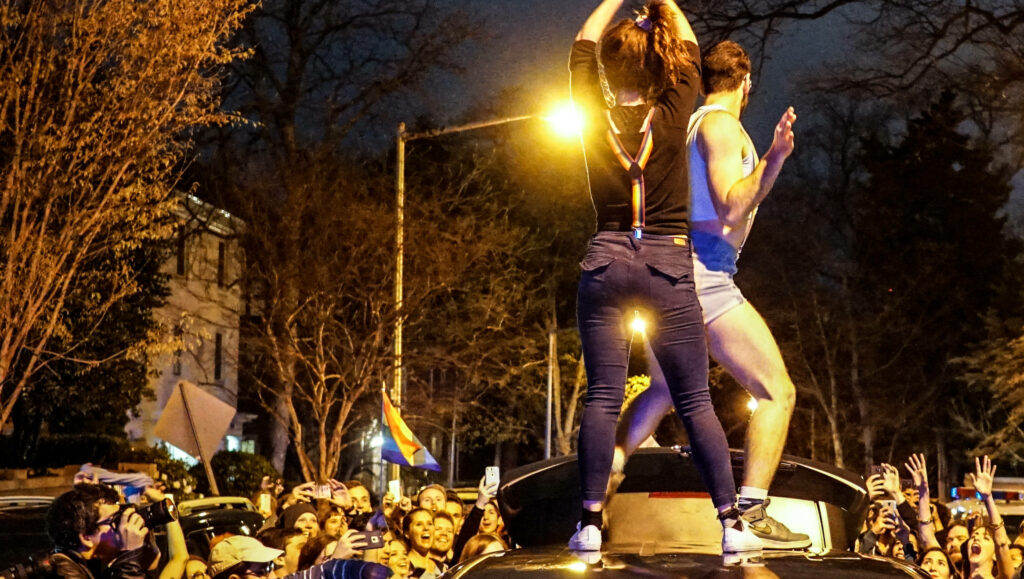 A space of urgency is:
a self-organized physical space
a free space to organize community projects and collective rituals
a place where social values trump commercial profits
resists dominant law & social norm injustices
strives for socio-political change beyond the boundaries of the space
Spaces of urgency are culturally determined social and political spaces created by and for a community. They arise out of our need to act, connect, mobilize and protest, and pioneer new ways of collective liberation. This is why the actions that take place within spaces of urgency are so varied in colour – from ecstatic dancing to self-determined living, or being a base for networking and community organization – are in each case a powerful tactic to physically mobilize under a shared urgency.

The URGENCY is enforced by external conditions that surround the boundary of a space, and the minds of a community working for bottom-up insurrection. Urgencies can be triggered by society's negative, marginalizing & stigmatizing attitudes towards certain other domains of society; by an unsupportive repressive government and legal system; or as a penalty to those who don't conform to a profit driven approach when creating community active spaces. In each case, a space of urgency becomes a tool of resistance, shelter for cultural communities and social movements, and a vehicle to drive a political narrative against displacement and inequality.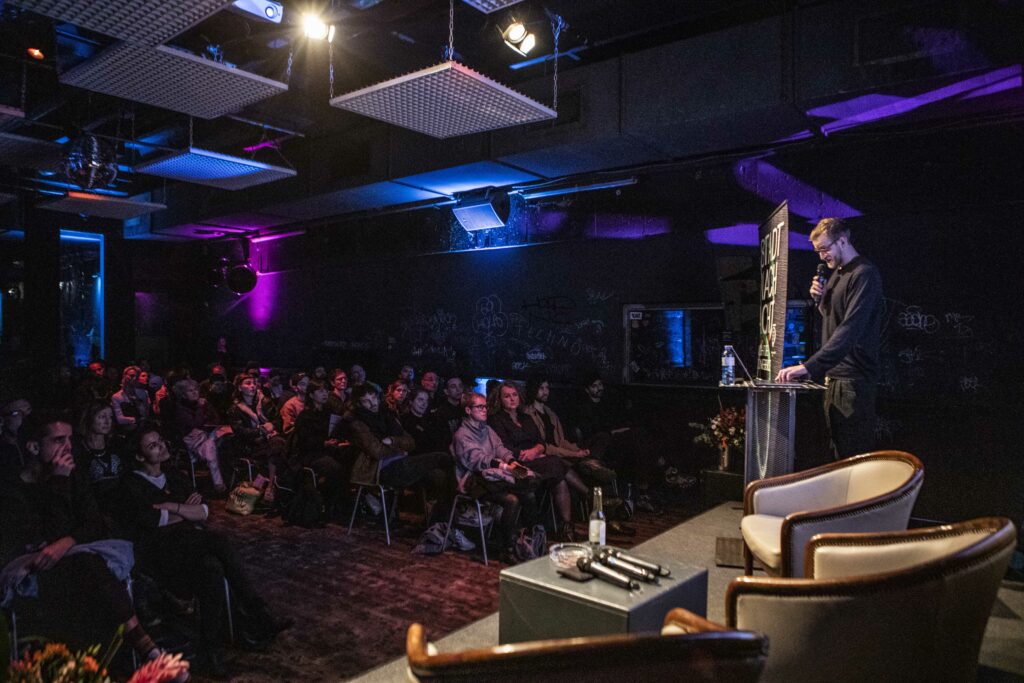 WHY ARE SPACES OF URGENCY IMPORTANT?
Having an independent physical space for connection, mobilization and solidarity is a precondition for self-organizing communities to grow, shatter old ways of thinking, and pursue socio-political impact beyond its boundaries. The space and it's community have a reinforcing effect on each other. Communities are formed through connections made from communal projects and collective rituals. The space being the binding resource –  harbours and protects the birth of new ideas, community organization and revolutionary thought as it seeps slowly into broader society and influences system change.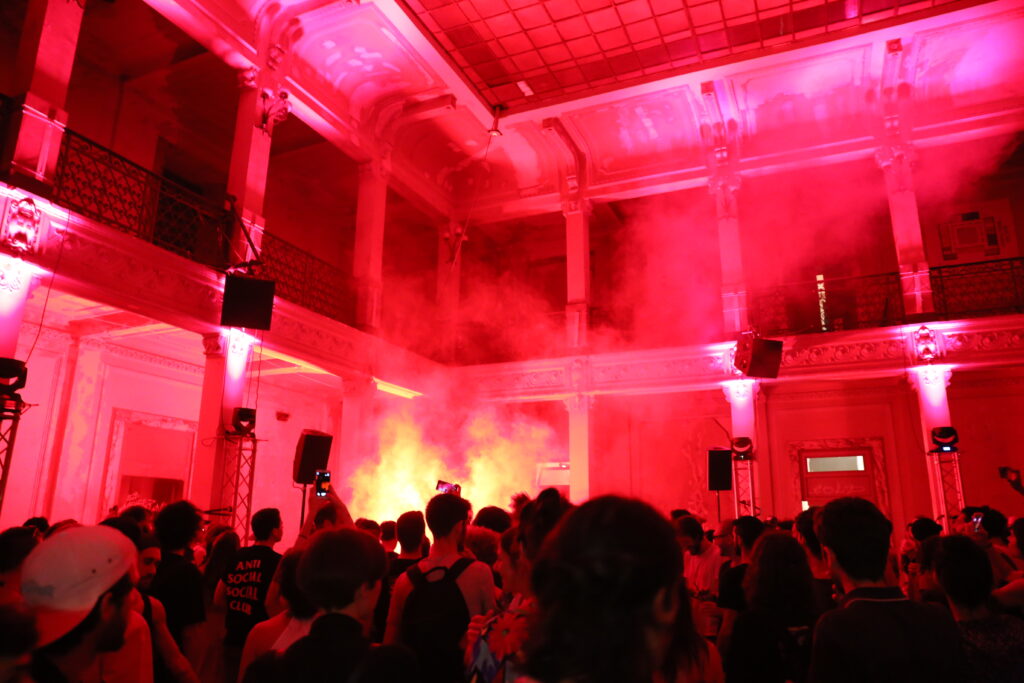 WHAT CAN WE LEARN FROM SPACES OF URGENCY?
Spaces of urgency manifest new models of collective living, working and creating. Underpinned by social, political and economic pressures, they release a tremendous amount of creative energy in pursuit of new tools, tactics and strategies that evolve our urban resilience. Space of Urgency aims to collect, document and share these unified theories of space and strategies against displacement, as a way to generate growth and resilience along our pathway of evolution.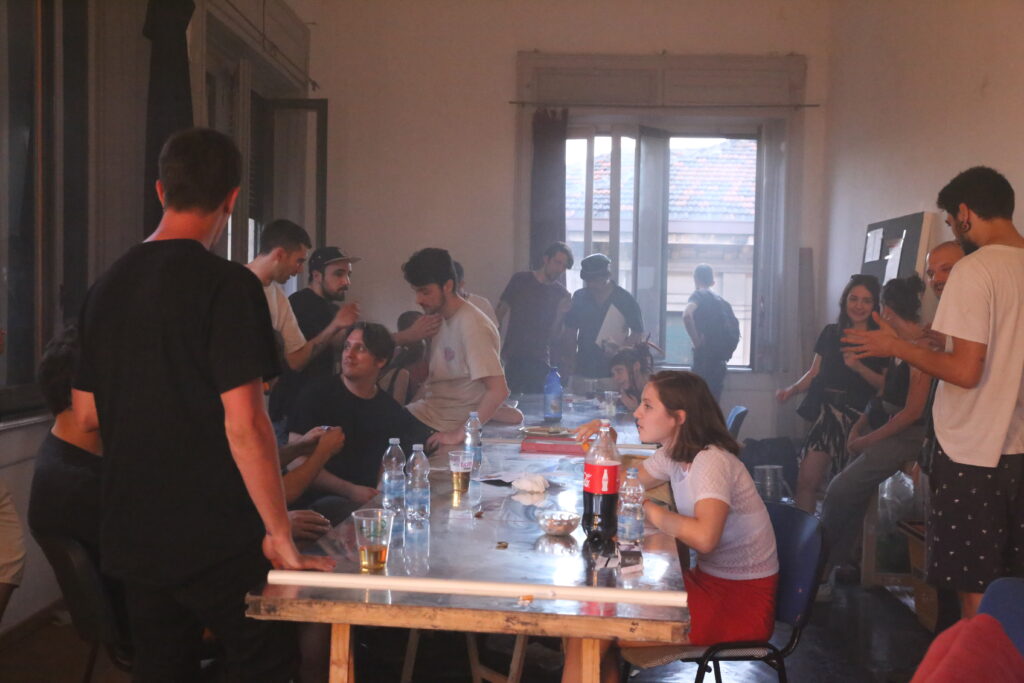 WHAT ARE SOME PARTICULAR CHALLENGES SoUs FACE?
Miscommunication: It's more than just social activism. It's more than just pleasure seeking. It's more than just a meeting place. It is notoriously difficult to illustrate the sociocultural gravity and importance of underground youth, rave and self-organized culture, to people who are not personally connected to these scenes. As well as being essential for personal expression and development, these scenes are a pressure cooker for environmental activism, antifascist demonstration, and political participation in general. Take Berlin's AfD Wegbassen demonstration and Tbilisi's "We dance together, we fight together," both of which mobilized hundreds of thousands of people.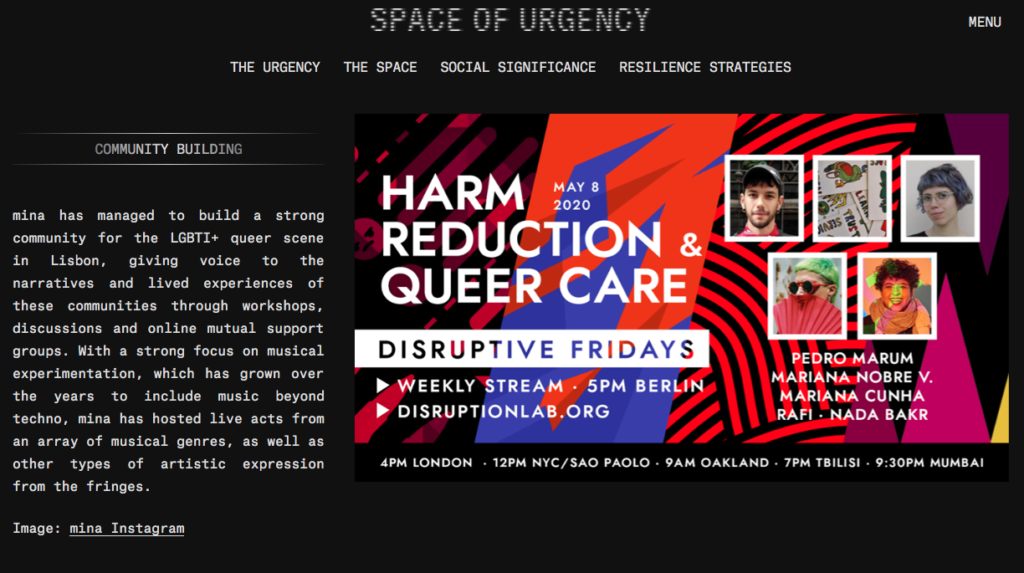 Prejudice: Self-organized scenes are among the most switched-on out there. They pursue innovative practices – such as self-building concepts, recycling, urban farming and sustainability-focused living – driven by a strong social justice compass. Their commendable non- or low-profit approach is based on intrinsic motivation. Nevertheless, these spaces remain criminally underestimated. Why? Because persistent prejudice pegs the scene as lazy, irresponsible and unorganized. Not to mention that the spaces of urgency in the network, arose as a reaction to prejudice in the first place. Fighting oppression to establish a safe zones for marginalized humans has set them in constant conflict with oppressive laws and conservative societal norms, like patriarchy and neoliberalism. This steely endurance is one of the greatest assets of these communities.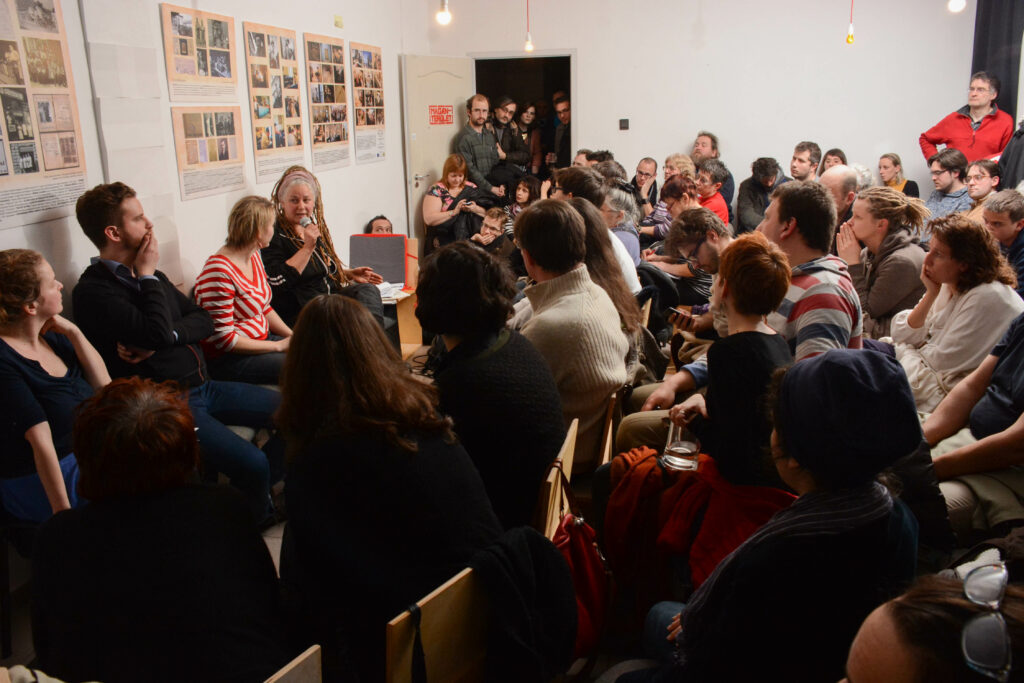 Mistrust: Some mistrust in authority is healthy. That doesn't mean, however, that we can't get policy makers and administrators to bat for our teams. A major obstacle is their perceived unapproachability and incomprehensibility. The knock-on effect is a feeling of powerlessness and frustration. Since 2015, SoU crew focused actively on establishing a language to bring different perspectives into dialogue. Yet, despite having made substantial progress in cities such as Amsterdam and Berlin, there remains a clash between these two worlds.
Underprivilege: Southern and Eastern European spaces present the greatest challenges. With more conservative governments and societies, it's possible that no political dialogue may be established whatsoever. That's why the focus of Space of Urgency is on mutual support and exchange between spaces, and a push for widespread public awareness. Instead of being solely dependent on political will, they'll be armed with the right resources to move forward with their own agendas. Moreover, Northern European cities, in a more privileged position, may also support the causes of their less resourced neighbours by exerting external pressure, sharing, training and offering resources.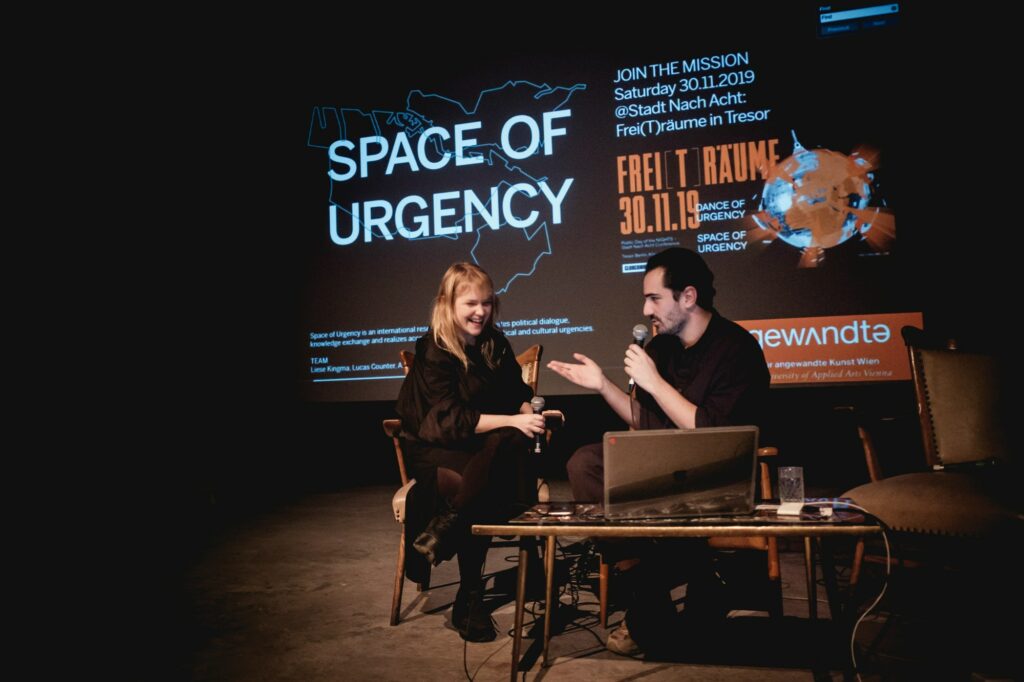 The Guerrilla Grant
As a unifying metaphor – Space of Urgency draws immediate attention to the precarious position of independent cultural spaces, and the ways in which they suffer from a privatizing, gentrifying planet, as well as the protective role space plays to shelter cultural communities that lack support from the state or mainstream institutions. At this moment, spaces of urgency are very compromised due to the pandemic, which has only exacerbated pre-existing issues of lack of funding and resources, a politically disabling environment, corporate takeovers, gentrification, commodification, social stigmatisation and marginalisation.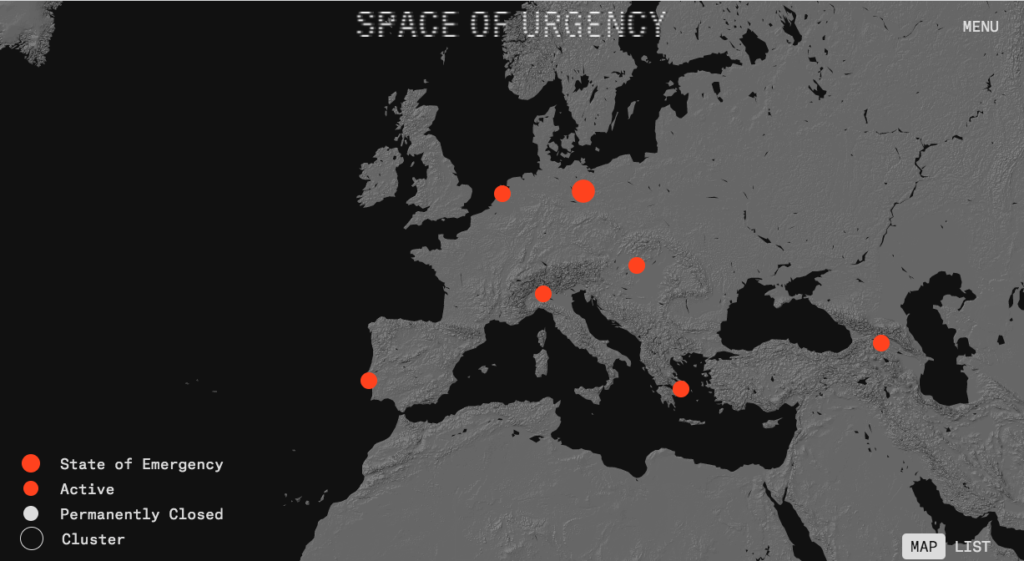 They are manifesting this community-derived political vision through 6 key ways:
1. Community Organising – regular calls with the wider Space of Urgency network.
2. Map of Urgency – profiling spaces of urgency around the globe.
3. Sound of Urgency – sense-making through sound via a music compilation collaboration.
4. Zine – cross border, countercultural magazine production to inform and inspire.
5. Demo Crew – organisation and support of activist actions, marches, stunts.
6. Frei(T)räume – annual, flagship conference that converges the collectives & builds trust and fosters deeper knowledge exchange.
The Guerrilla grant will function as core support for the team to focus on points 1 and 2. For phase one, with the help of this grant, the SoU crew will pinpoint and publicize the stories of 21 Spaces of Urgency across the continent. These include mina (Portugal), Baku (Azerbaijan), Aurora (Hungary), Macao (Italy), Domie (Poland), ZAD (France), Bantabaa (Germany), Cxema (Ukraine), Onderstroom (Belgium), White Noise Movement (Estonia), Komēta (Latvia), Greifswalder Str. (Germany), Adra (Serbia), Nosotros (Greece), Steyerberg (Germany), Open Cultural Center (Barcelona), Ruigoord (Amsterdam), Ungdomshuset (Denmark), Drugstore (Serbia), and Bassiani (Georgia).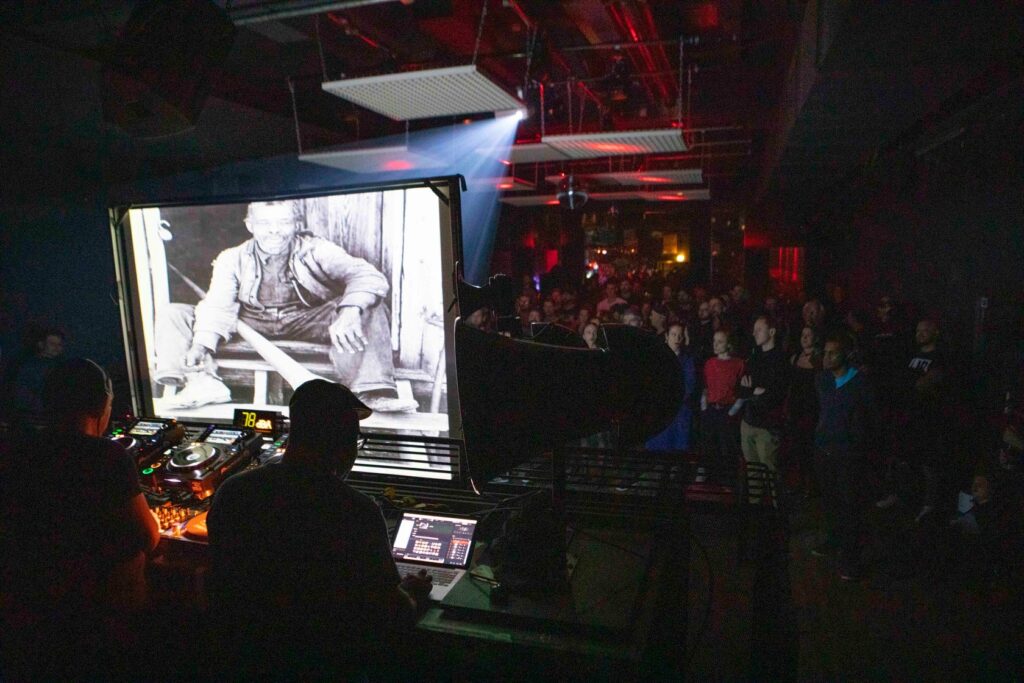 These spaces need direct support – and fast. Not only to hold down their physical locations, but to continue beating the drum against the oppression of their communities.
Therefore in order to continue refining this approach, SoU will carry out two evaluations with the participating spaces. They'll get their feedback on the project via a survey and ongoing physical contact with the primary questions being:
a. Has the platform helped your campaigning strategies to create more impact?
b. Have the additional knowledge and resources strengthened your resilience?
c. How was your position within the local community affected?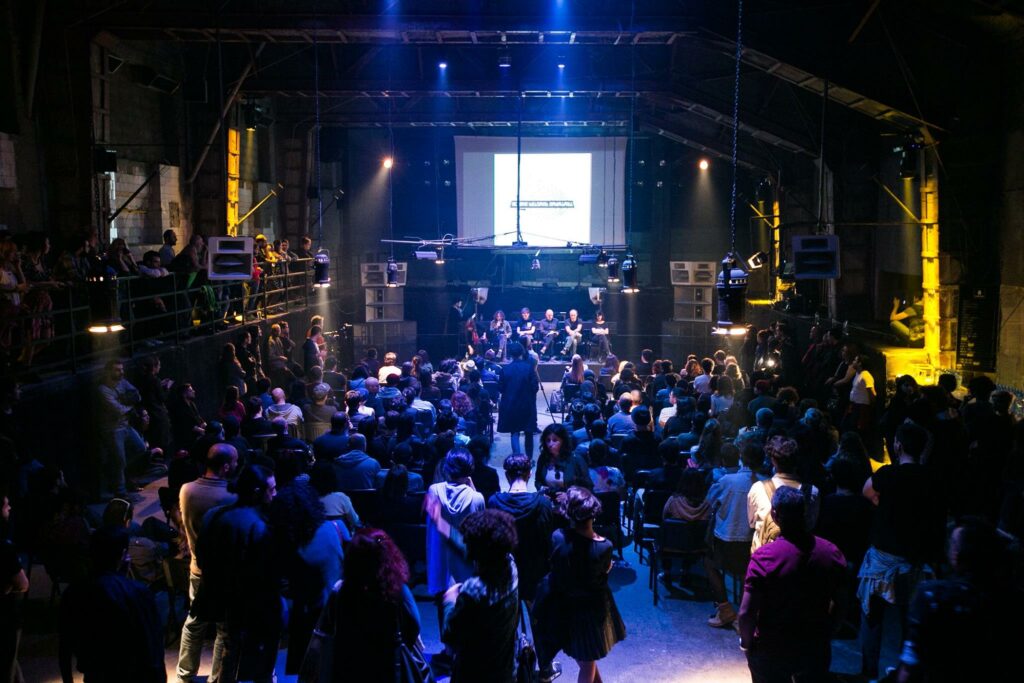 Finally, the effect on Space of Urgency's online presence will be monitored. Has the movement wildfire-spread through social media? How many views, clicks, shares, likes and comments? How many articles and other press have been generated? SoU will also evaluate how external actors, such as politicians, have harnessed Space of Urgency content to address the topics of self-organized space and marginalised communities. Did it contribute to the goal of structural change?
Another important success indicator is the growth of the Space of Urgency network. How many new spaces want to get involved? How did they find us? By the end of April 2022, we aim to become 51 spaces strong. Those 30 new spaces will be included in a subsequent framing and storytelling round.