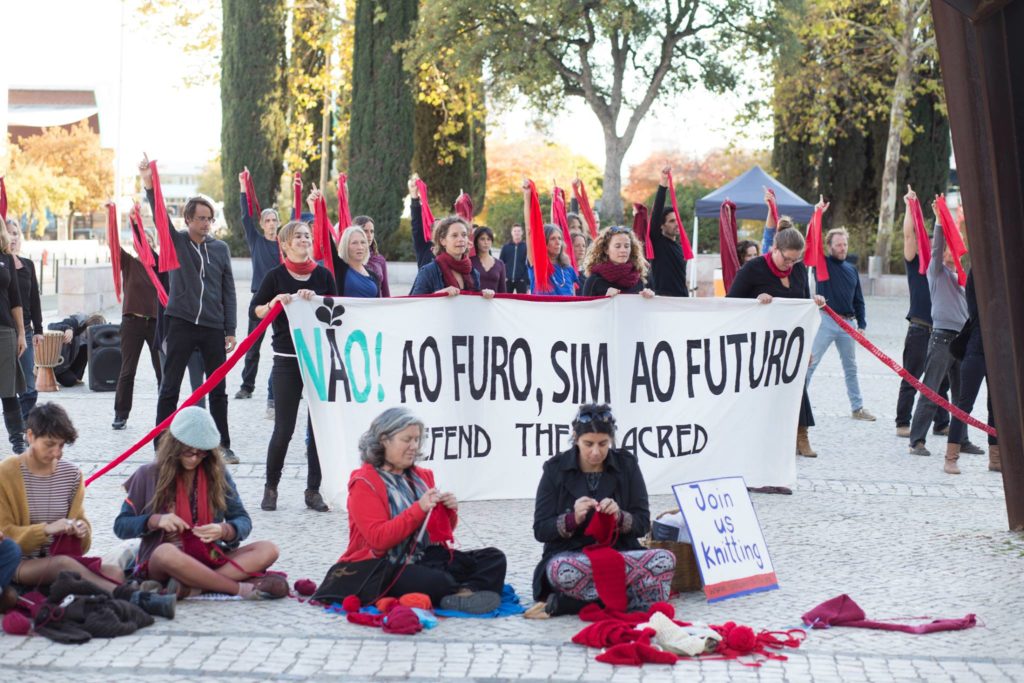 Linha Vermelha is a national awareness campaign to stop oil drilling & fracking in Portugal. They want to knit 52 Km, the longest red line in the world, to mobilise people to say a resounding NO! to fossil fuels.
There are currently nine active drilling and fracking contracts in Portugal, located in the Algarve and Alentejo coast line, as well as close to Peniche and about 20 km inland. They are active, but no drilling or fracking has occurred yet. The goal of Linha Vermelha is to cancel these contracts by putting pressure on the Portuguese government through people's mobilisation and press coverage.
The issue with people's mobilisation is that there's a huge lack of awareness regarding the negative impact of drilling & fracking, and oftentimes these activities are seen as viable economic solutions for Portugal. Moreover, there is a big awareness gap between ecologists, activists and people who live along parts of the coast with nature or tourism traditions, and the rest of the population. This, coupled with a historical lack of political participation, and press conglomerates that are controlled by corporate interests, makes it extremely hard to engage in an open discussion around drilling and fracking. Furthermore, the current campaigns on drilling/fracking are mainly local, addressing only their very immediate local needs. This creates an activism ecosystem which is often competitive, rather than collaborative, making it hard to scale up activism activities to a national level.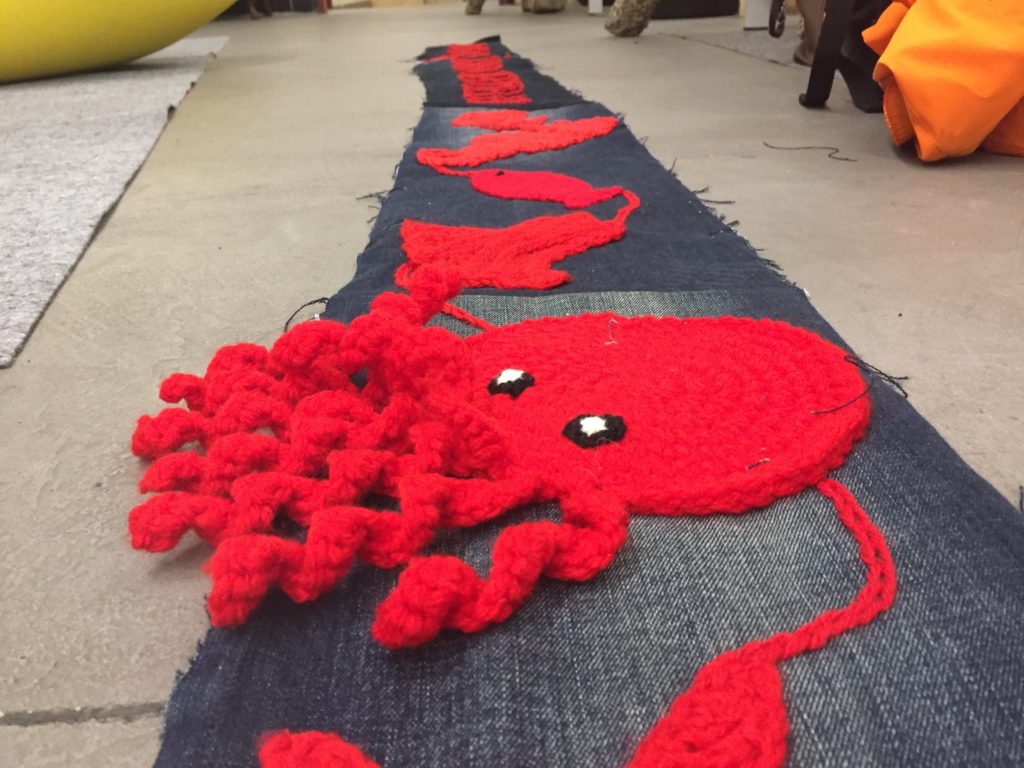 These challenges have been turned into an opportunity, via the creation of the "Linha Vermelha" campaign, which uses a lighter approach to activism that is easier for people to embrace. They are trying to target non-activists who are normally not targeted in activism campaigns, however they are one of the few national anti-drilling and fracking campaigns in Portugal altogether. "Linha Vermelha" is quite a recent campaign, having started only in November 2016. Despite the short duration, they've already had a few successes. They've had more mobilisation regionally than in Lisbon, which is the opposite of what usually happens, and now there are 10 regional knitting clusters in Sines, Lisboa, Porto, Bragança, Odemira, Aveiro, Sintra, Olhão, Algés, Oeiras, Loulé, São Brás de Alportel, Entroncamento and Leiria. The team is also receiving red lines from Spain, Australia, United Kingdom and the United States of America. Moreover, they've successfully engaged with regional activism groups, and have joined in local actions while organising both local and national events with arts and civic centers.
Why Now?
This campaign is currently important for three reasons:
It is imperative to actually create awareness and mobilisation of non-activists before the drilling and fracking starts, thus contributing to a prevention culture.
They are promoting an active-citizenshop mindset and doing so by utilising a "lighter" approach to activism and engaging people who otherwise would not be interested. Widescale popular opposition against oil drilling and fracking will be key to preventing large infrastructure development projects and it is not enough for this to remain a fringe issue of environmentalists alone.
This campaign is laying the foundations for the first national climate justice movement in Portugal.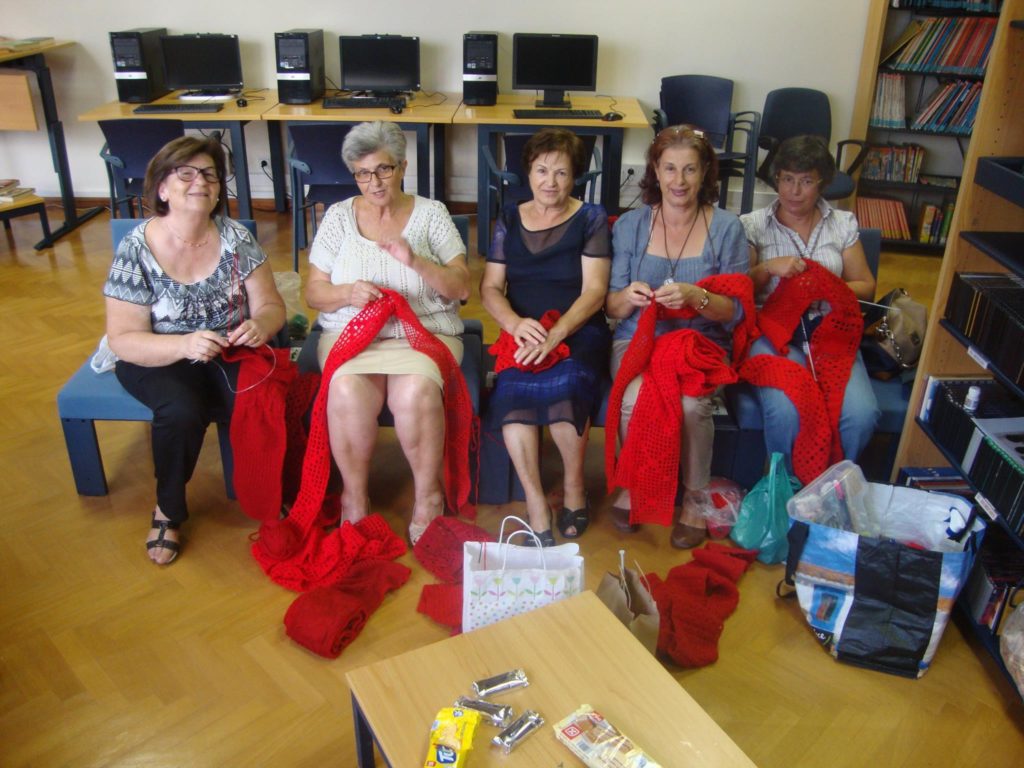 Gentle Activism
One of the key lessons the Linha Vermelha team have learned since their inception in late 2016 is that gentle activism is a powerful, unifying tool. It is an intention and mindset more than a tangible tool, because there are numerous practices one can develop that would fall under the gentle activism approach. Knitting is just one such example. A fun, accessible activity that involves the rewarding feeling of having learned a new skill as well as engaging with a diverse group of people is what gentle activists need to be going for. There is a budding movement particularly within craftivism (blending crafts and activism) to to just this, politicise arts and get people connected and engaged with society-shaping goals. Sarah Corbett is one such gentle activist leader, running the craftivist collective in the UK, you can read more about how gentleness can be a powerful tool in activism here and you can also listen to an interview with her from another Guerrilla grantee, Upstream here. Finally, 'word of mouth' is very important in maintaining close connections between the knitters as this is a very social campaign and really depends on human relationships. In addition, since it is important to make the red line bigger and more visible, having some sort of gamification around the campaign with length targets, makes it all more fun while also helping people understand the urgency behind the end goal.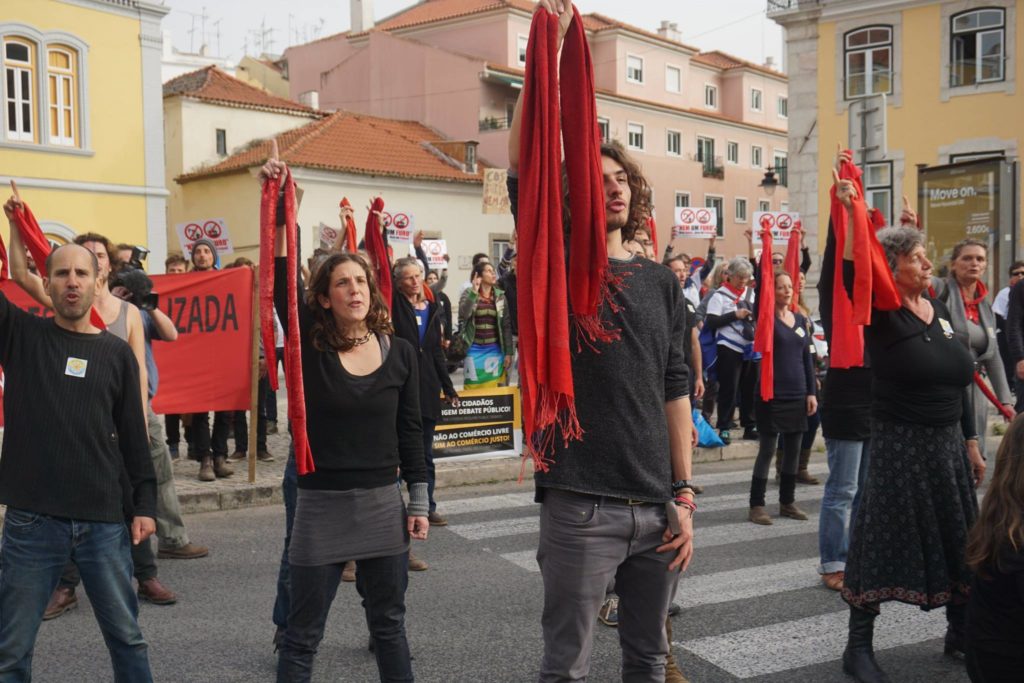 This entire campaign was essentially being coordinated by two volunteers, and their goal was to professionalize our work, make the campaign more consistent and sustainable and scale it up regionally. To do this, all they needed was to have someone working part-time for the campaign, making contacts and supporting regional groups, creating more and better communication materials for general audience and press, and organizing events. This is mainly what the guerrilla grant is being used for, core costs for salaries and expenses pertaining to the campaign, and also giving more space for further fundraising (that is already proving successful!)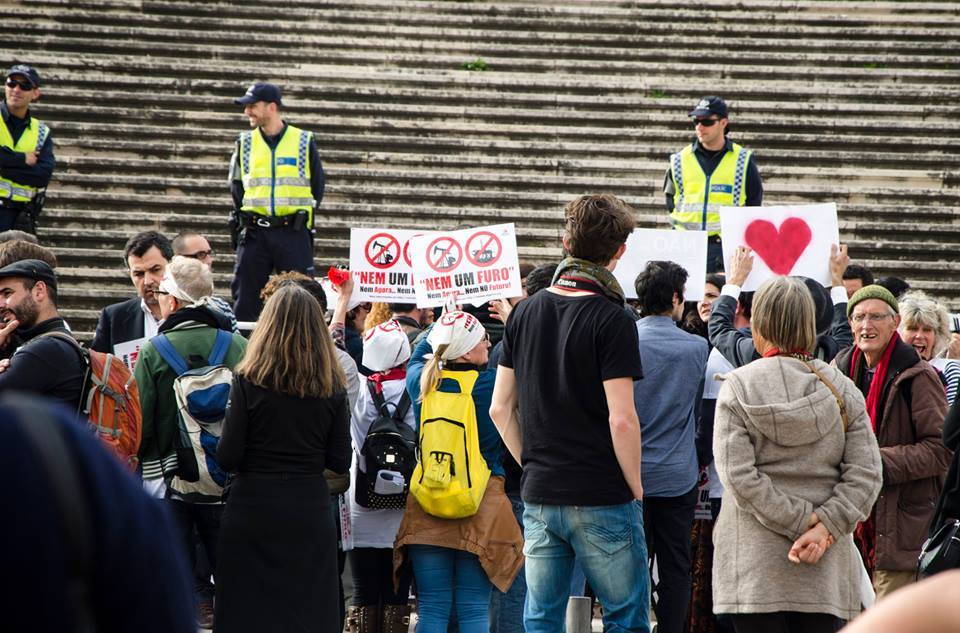 So what does a national campaign's to-do list look like?
– Contact regional groups: schools, knitting circles, elderly centers and other local organisations and companies (email, phone, face to face) and support their regional events with communication materials. The goal is to have a decentralized campaign and to have regional groups massively contributing for the 52 Kms. They will also support them with knitting materials if necessary.
– Press coverage: create national and regional press releases, contact daily TV shows and media outlets, create stories around "craft activism", get support of celebrities and ambassadors and use their image.
– National Event and Gathering: Organize one national knitting event to bring together all regional groups.  Organize one national gathering to bring together anti drilling and fracking activists, and climate justice leaders.
– Sponsorship and fundraising: contact companies and wool manufacturers to get sponsorship either in kind or money. Organize an online crowdfunding campaign for wool and money donations.
– Consolidated national strategy "Linha Vermelha": Draft a "Linha Vermelha" strategy for the next three years, rework theory of change and logical model.
– Research: Produce report on regional and national activism groups. Create a research base for a climate justice movement
– Digital marketing: Website and social media updates, social media ads. Comms material production. Create a "Linha Vermelha" activism kit to be downloaded and used by anyone around the world. Update flyers and brochures. Create banners. Produce two videos: institutional campaign video with celebrities, and one short video explaining the drilling and fracking issue.
Continuing our commitment to long-term grantmaking, we supported Campanha Linha Vermelha once again this year. They are planning  to participate in the first climate camp in Portugal at the end of the summer and of course a large collective knitting action at the site. In addition, they will continue their core mission by adding new groups to knit the red line. After the summer they will return to regional events and will continue to mobilise people in the centre of Portugal where activism is lower. They also want to create a campaign booklet and try to expand the campaign for schools.
Practically, their aim is to cancel the two remaining oil exploration contracts while informing people about climate justice. The oil company plans to drill at the end of 2019 or early 2020. Until then, together with the locals, Campanha Linha Vermelha plans to create a lot of pressure about this issue using the climate camp and the "knitting action" as places for community organising. The camp and the tricot action includes strengthening ties with the local population. Whether it is to have local food during the camp, or to involve the people in the preparation of the camp or the knitting action a strong front of engaged locals will be instrumental to cancelling those two last oil exploration contracts so that Portugal remains oil-free. Our funding will now go towards core expenses, namely staff costs, that the group will have in order to carry out the aforementioned tasks.