The Fossil Free Culture NL (FFCNL) was founded in 2016. They are a collective of artists and activists creating disobedient art to end oil and gas sponsorship of cultural institutions in the Netherlands with the end goal of terminally eroding the fossil fuel industry's legitimacy.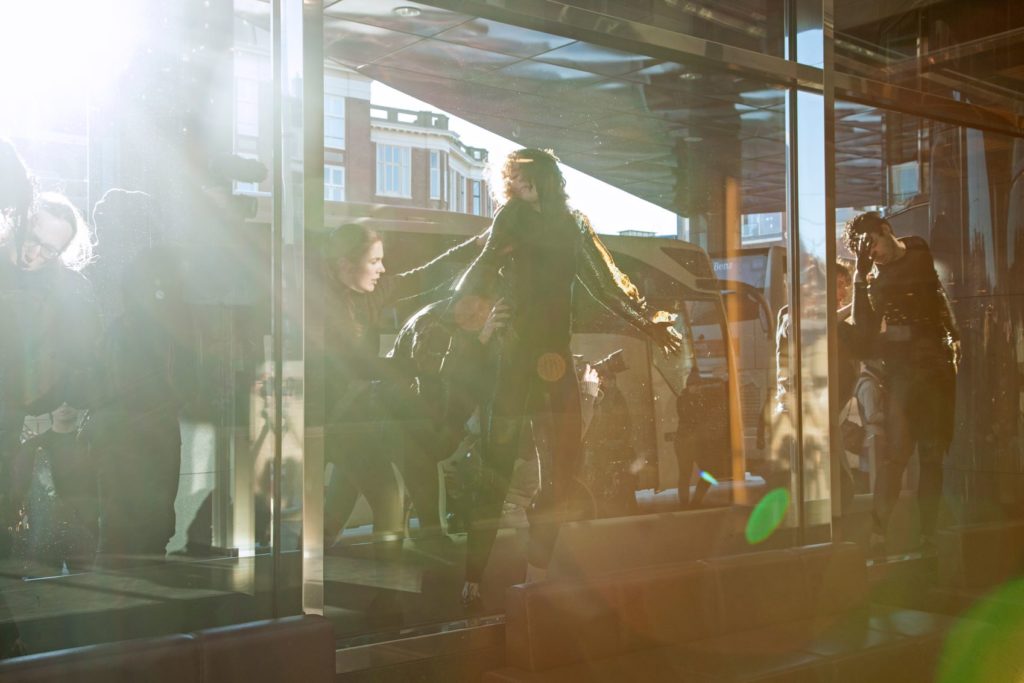 The Shituation
The Netherlands is home to one of the world's biggest oil and gas companies: Royal Dutch Shell. Shell occupies 9th place on the list of 100 companies responsible for 71% of global CO2 emissions. In fact, Shell produces twice as much greenhouse gases as all of the people in the Netherlands put together. It faces more than fifty lawsuits around human rights abuses, corruption and environmental destruction. Despite this shameful reality, Shell remains one of the most prestigious Dutch companies and enjoys high social respectability, largely due to their broad and deep PR efforts in the country. Shell invests significantly in maintaining its social license by building relationships and brokering its power in many different institutions and spaces; educational, scientific, media, political and cultural institutions are the pillars of support corporations like Shell rely on to continue their disastrous operations unhindered by public disapproval. Shell is everywhere.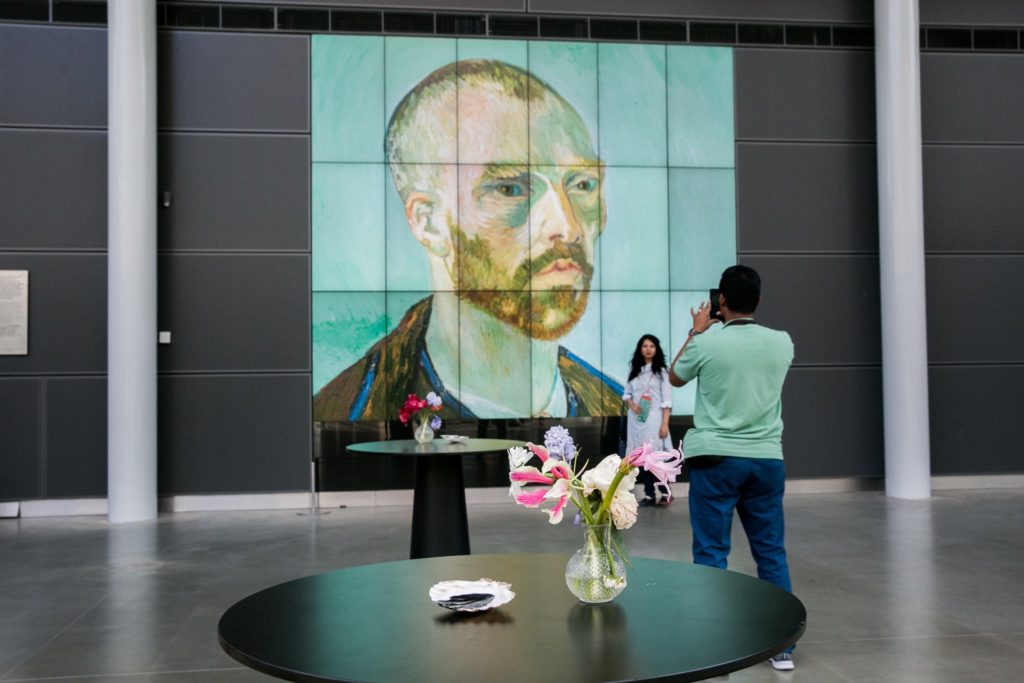 This is why they target the relationship between Shell and the cultural sector in the Netherlands. Fossil fuel sponsorship of cultural institutions is a long-standing tradition in many different countries; BP, Total and Shell have sponsored the most prestigious museums and cultural institutions in Europe over the course of the last decades, such as the TATE in London, Louvre in Paris and the Van Gogh Museum in Amsterdam. By doing this, (known as Art-Washing) they purchase a positive image of societal generosity and pimp their reputation, while distracting us from the fact that they are the main drivers of climate change.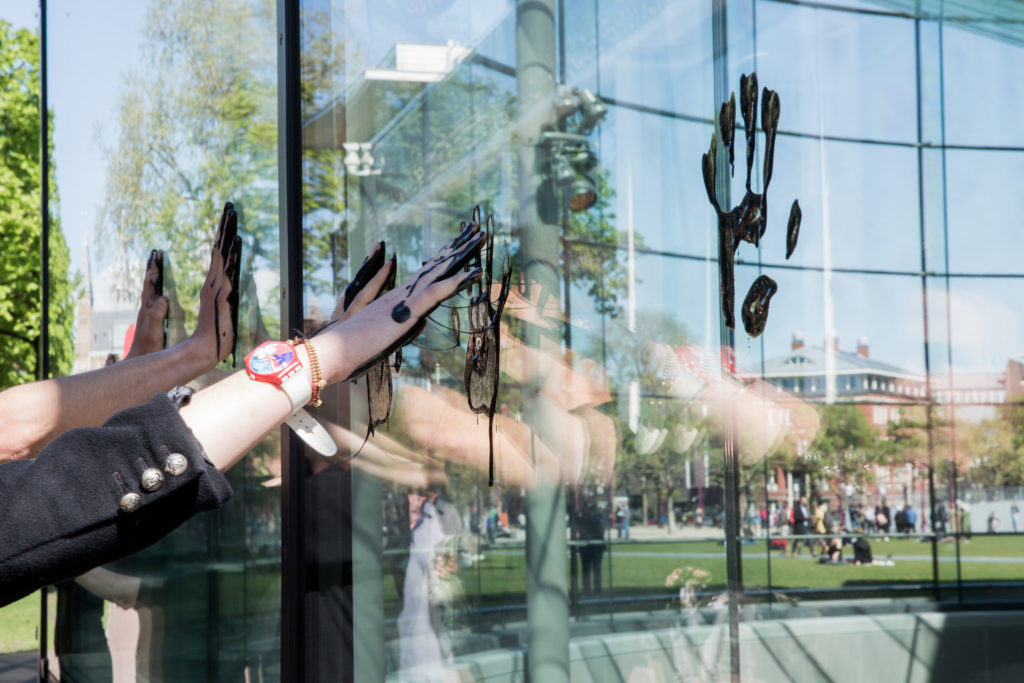 As artists, they feel they must respond with courage to the situation at hand. Art, by its very nature, always has the potential to channel hidden, untold desires towards expression amongst a silent majority and to inspire and engage people. Therefore, their role is key to removing the cultural pillar of support, which contributes directly to the dismantling of Shell's power over society. This is why they are working to end the association with cultural institutions to sanitise corporations' public image, such as sponsorship deals – and to remove all opportunities for the fossil fuel industry to pimp their image using their toxic profits.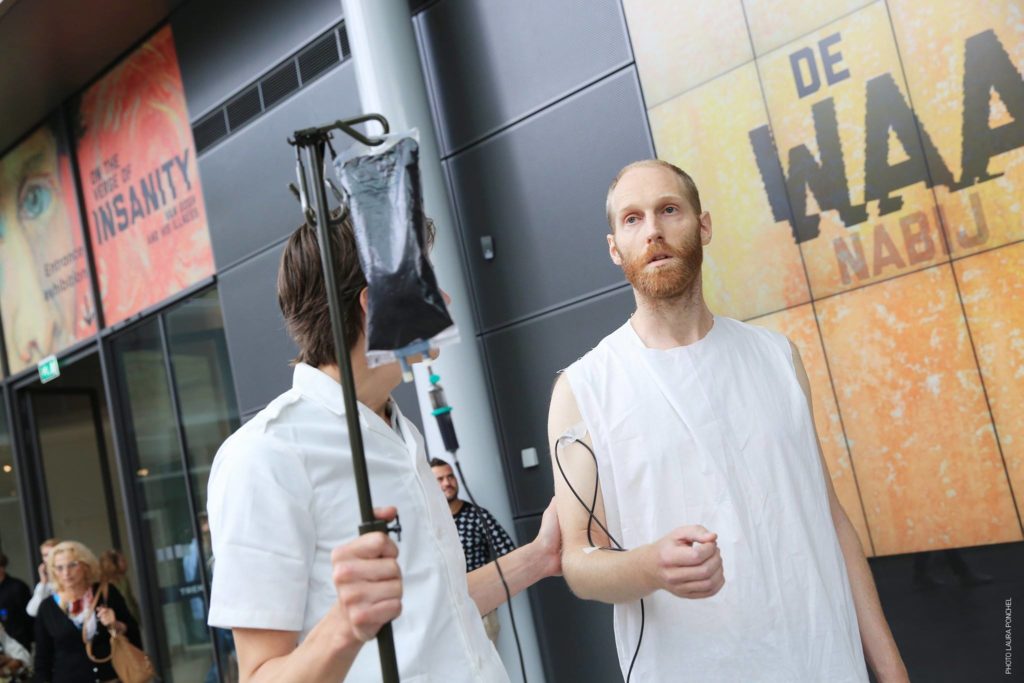 A Bit About The FFCNL Team
The core team consists of five badass women: Teresa Borasino (artist, Peru), Daniela Paes Leão (artist, Portugal), Merel Willemsen (art historian, the Netherlands), Clare Gallagher (cultural worker, Scotland) and Harriet Bergman (philosopher, the Netherlands). They identify as an intersectional, queer, feminist collective that come from migrant and sexual minority backgrounds. They intrinsically carry the principles of climate justice in their work.
Additionally, they work with a larger network of volunteers of roughly 150 people, formed by activists, artists, cultural workers and anyone willing to participate in their performances and artistic interventions.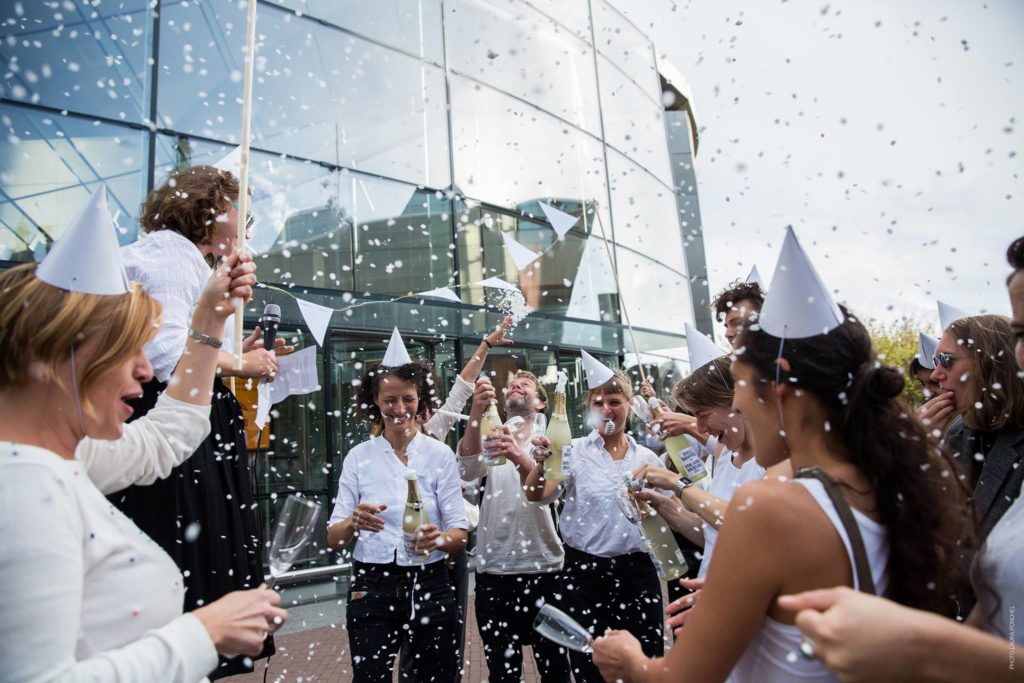 At this moment they are creating a team of regular volunteers, which they see as a second layer that supports the activities of the core team. This layer will be composed of a group of nine professionals already engaged in the larger network and will enable the core team to distribute leadership and share responsibility and accountability with the larger network. The second layer will be flexible and vary in size depending on the needs and tasks of specific activities and performances.
The professionals of the second layer will, in turn, coordinate different working groups that can operate more or less autonomously and are composed of volunteers. They are planning to create nine different second-layer working groups: mobilisation, visual production, communication, production and logistics, media, fundraising, research, digital privacy and security, and legal.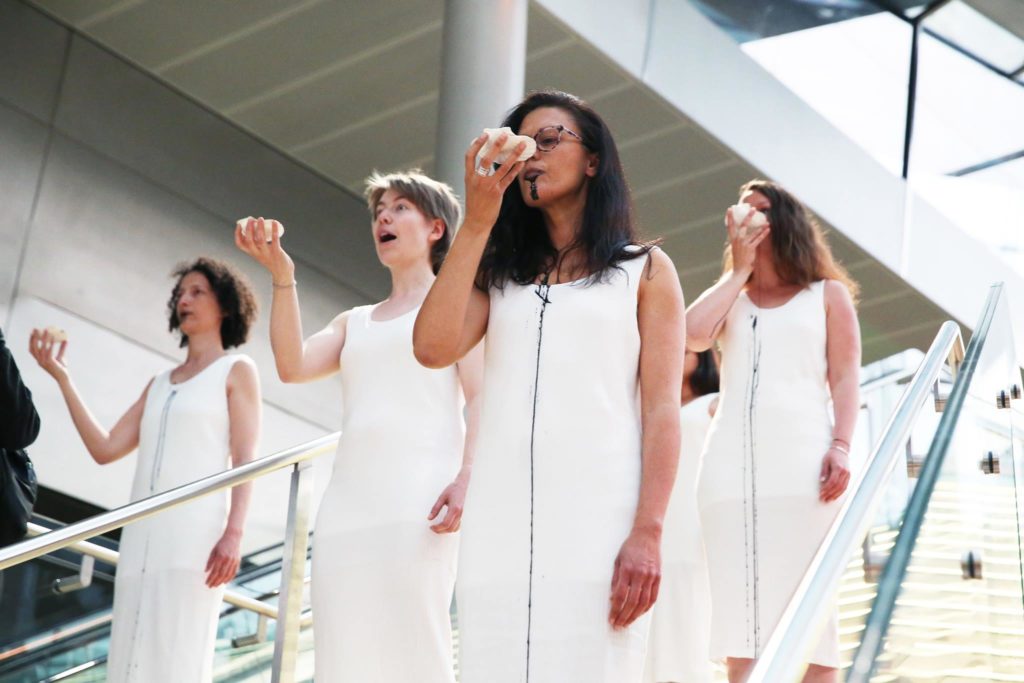 The Guerrilla Grant 2019
With this grant FFCNL will implement the #FossilFreeMuseumplein art campaign. The Het Koninklijk Concertgebouw (Royal Concert Hall) is widely considered to be one of the most important concert halls in the world. It is also the last public cultural institution on Amsterdam's Museum Square still accepting money from the fossil fuel industry. They are determined to bring an end to Shell sponsorship by the end of 2020 and publicly declare a Fossil Free Museumplein.
They will achieve this through a relentless series of beautiful, disobedient art performances that escalate in duration, attendance and boldness. This will represent a concrete and emblematic victory packed with powerful symbolism that will bring them closer to achieving a fossil free cultural sector in the Netherlands and terminally eroding Shell's public image and license to operate.
Making the Museum Square proudly Fossil Free will increase pressure on those in power to implement the broad-scale unprecedented measures urgently required to address the climate emergency. So the next art campaign is #FossilFreeMuseumplein and before the end of 2020 they will convince the Concertgebouw to cut all ties with their sponsor Shell.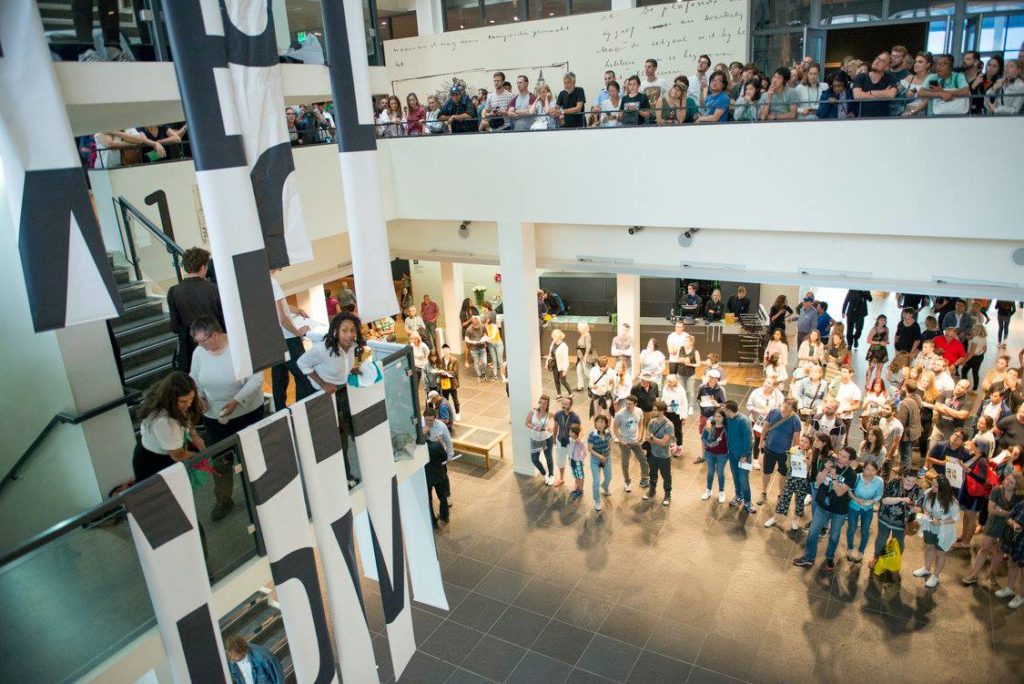 Performances & Interventions
They plan to create and execute nine disobedient performances and interventions inside the Concertgebouw and in public spaces over the working period June 2019 – December 2020. Each of these works will challenge the acceptance of Shell sponsorship and expose Shell's disastrous impact on the planet and all cultures and species upon it.
They will escalate their artistic tactics by intertwining symbolic interventions in public spaces with physical performances inside the venue, strategically intensifying the body of work over the duration. The specific performance form and content of the performances will emerge as a result of artistic research, and in response to political developments around the subject of oil sponsorship and climate politics.
One of the methods they use in these editions is the 'subvertising' of branded communication material. For each of the performances, they produce alternate versions of the printed communication of the institution in question, to distribute during performances and at art events. The documentation of these performances will result in videos and photography that can stand on their own, to be widely spread through their online channels, accompanied by text.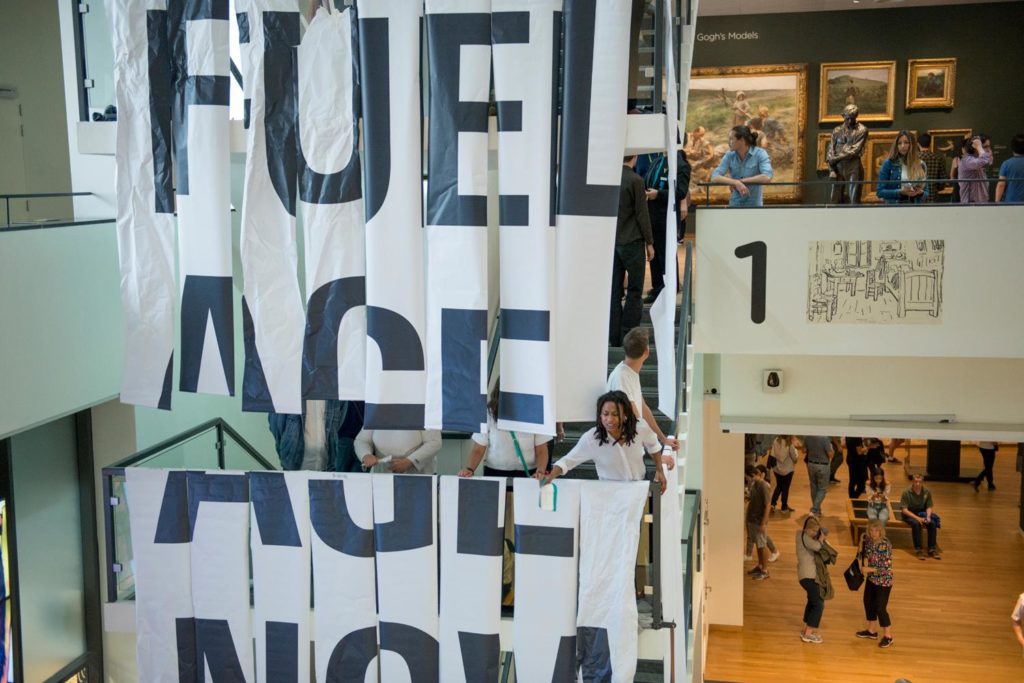 Art Objects
They will launch a new project with three specific objectives: to spread disobedient art as a legitimate art form and effective tool for social change, to prolong the effective duration and impact of their performances and to further ignite the public debate around unethical cultural sponsorship.
This project consists of a series of art objects that fit in three categories:
– 'DIY Disobedience objects' are beautifully designed objects distilled from their performances. Each object represents the potential for a possible future disobedient act, carried out by the person that owns it (check out their annual report for some examples).
– 'Artwashed Editions' are accessible items that communicate our discourse clearly, and help further brand the artistic campaign. These items include t-shirts, posters, booklets and leaflets.
– The Toxic Beauty Line (soap, body lotion, perfume) is a project that they intend to run parallel to the performances. The Beauty Line is a critique on art-washing and all other artificial veneers corporations use to misleadingly 'beautify' their image.
These objects of art will be displayed and distributed via their website and they further intend to showcase them at art and design fairs and exhibitions.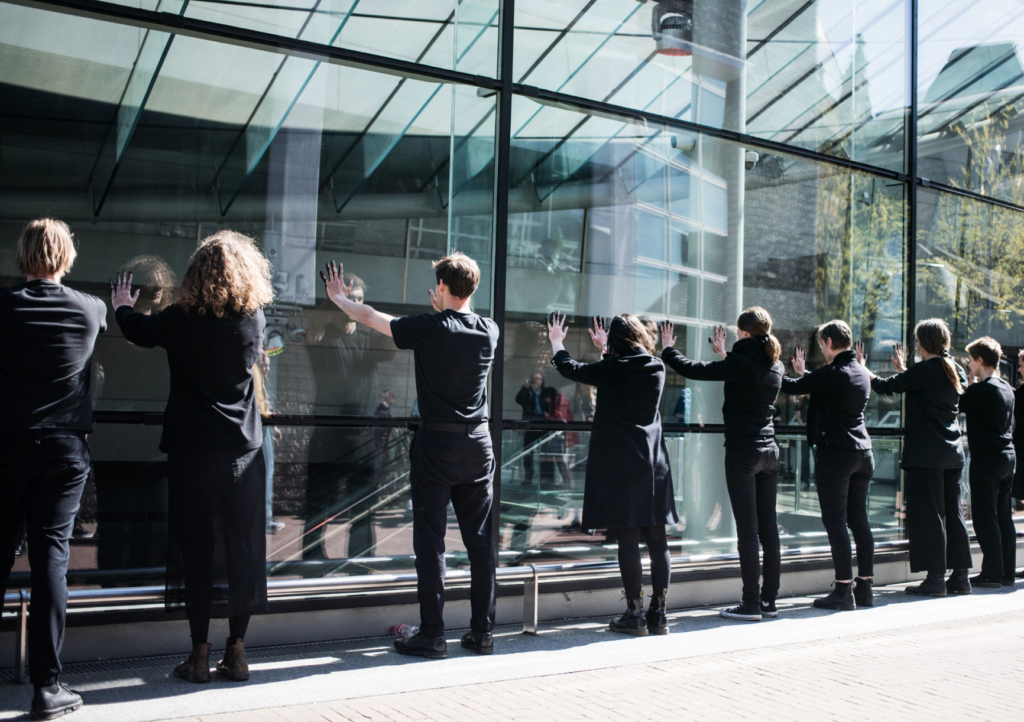 Movement Building
In order to grow their network, FFCNL will continue organising regular public events (e.g. benefit parties, trainings, brainstorms, etc.). The team will also actively look for opportunities to present their work, through talks and workshops at public events, organised by cultural organisations that support them. In collaboration with Framer Framed, a platform for contemporary art, visual culture, and critical theory & practice, and Platform BK, a strategic coalition promoting art and culture, they will launch a Fossil Free Funding Label to commit the cultural sector at large to a fossil free future so follow, share and support their work!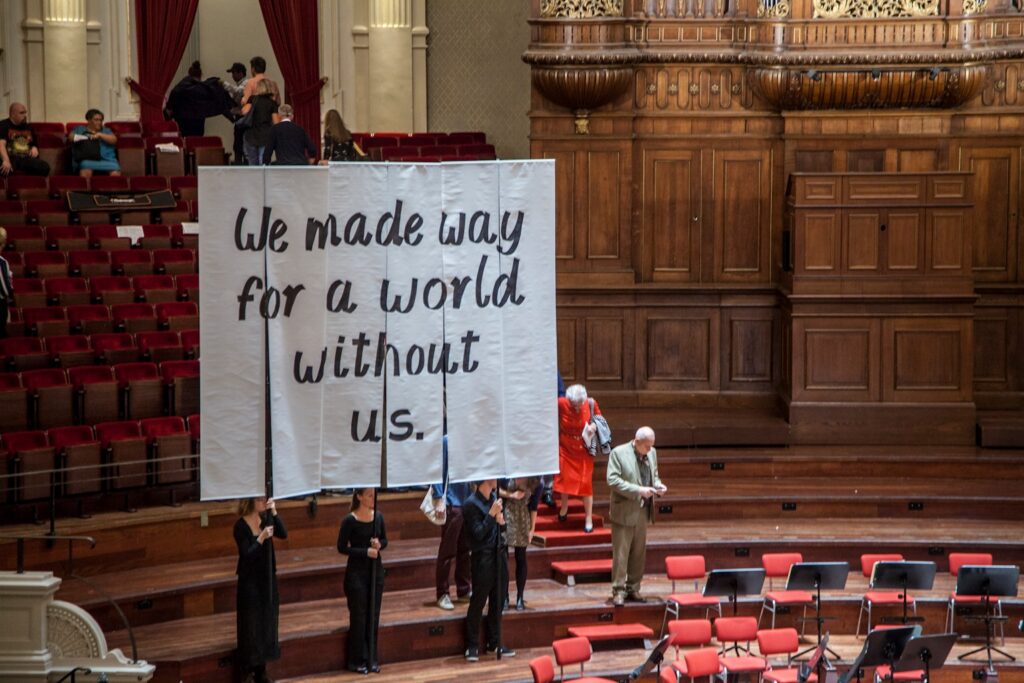 The Guerrilla Grant 2021
In the fall of 2021, Fossil Free Culture will launch the 'Disobedient Art Lab', a platform for the convergence of all the things they have been doing during the last six years and what they have been dreaming about: a culture not only free of fossil fuels, but of all systems of violence. They see the DALab as a space where disruptive and generative practices intersect and where people can embody the liberation they want to see in the world. Our grant goes to core support the setting up of DALab.
The DALab will consist of three streams: 1) the continuation of the disobedient performance work to confront artwashing, 2) creating space for the collective imagination of disobedient future visions to the dominant systems of violence, and 3) a disobedient art school, that will start with a training programme designed to spread the tools and principles that make disobedient art so effective and affective for social change.
At the end of 2022, they aim to have:
1. Removed all remaining traces (Shell logos and new possible or hidden ties) of the partnership between NEMO Science Museum and Shell.
2. Ended the partnership between Scheepvaartmuseum (The Maritime Museum) and BP.
3. Stimulated a public debate around climate colonialism and the role of cultural institutions in perpetuating it.
4. Created a vibrant community of activists, artists, designers, doers and thinkers that cooperate structurally within social movements (specifically, the climate justice movement)
5. Stimulated more artists to become engaged in activism and more activists to be engaged in art.