Guerrilla Virtual Meet-ups for Radical Activist Resourcing
The word, 'call' stems from the Old Norse kalla, meaning to 'summon loudly', and this is what we've been going for in our 'Radical Philanthropy Calling' sessions, sounding the alarm that it is high time for folks with wealth to get radical with their giving.
How many sobering Oxfam infographics are needed before wealth inequality is taken seriously? Peter Buffet's* critique of the aid sector, alongside the foundations that fuel it, was aptly summed up as the Charitable Industrial Complex seven years ago, yet little has been done to dismantle it. He wrote that, "it's time for a new operating system. Not a 2.0 or a 3.0, but something built from the ground up. New code" and some blueprints for a radical revisioning have started, but we still "have a crisis of imagination". There are few things that a vibrant imagination and strong, trusting relationships cannot fix. So at the end of 2019, we started off with a small group of loose acquaintances, composed of people with wealth, most in their thirties and early forties, some younger, some experienced grantmakers, some curious novices. The idea was to create regular, virtual meet-ups where people who are driven to drastically rewire planetary injustices, can swap stories, learn from one another, deep dive into pressing societal topics, share emotionally challenging stuff, and openly discuss issues that range from systemic power imbalances to the nitty gritty of family dynamics when setting up a philanthropic fund. *(Buffet did cause some controversy recently for reducing NoVo funding & laying off staff, in fact highlighting the need for Foundations to start doing things very differently).
Almost one year and six sessions later, while respecting the anonymity of the participants (to maintain the safe space vibes), we wanted to offer up a summary of the kind of content we are developing with this microcommunity as it might be useful to others who are on similar journeys elsewhere. We drew inspiration from groups like Solidaire, "an alliance for global justice donors working together to bring radical giving to social justice movements", and Resource Generation, "a multiracial membership community of young people (18-35) with wealth and/or class privilege committed to the equitable distribution of wealth, land, and power". While a European version, Resource Justice is just getting started, we wanted to bring the kinds of questions such groups grapple with, to the European cultural context, peppered with a healthy dose of our own brand of Guerrilla rebelliousness and grassroots movement orientation.
"Hope is not a lottery ticket you can sit on the sofa and clutch, feeling lucky. It is an axe you break down doors with in an emergency. Hope should shove you out the door, because it will take everything you have to steer the future away from endless war, from the annihilation of the earth's treasures and the grinding down of the poor and marginal… To hope is to give yourself to the future – and that commitment to the future is what makes the present inhabitable."
― Rebecca Solnit, Hope in the Dark
To give you a wee, intellectual & political amuse-bouche, here are the first half dozen session titles accompanied with extra short synopses of the questions we sat with and what came up.
#1 Rad Philanthropy with Paolo Fresia
Starting with our very first board member as the guest speaker, we kicked off this learning journey with Paolo, inquiring what is in fact a radical approach to philanthropy? What are the obstacles preventing young, high net worth individuals from giving? Why are approaches like impact investing or venture philanthropy inadequate to tackling deep systemic injustices and what are alternatives? The clear frontrunners were participatory grantmaking and activism-focused philanthropy. Existing models such as FundAction, the first, pan-European fund by activists for activists, are the models worth supporting and developing further. They put forward a radical shift towards democratising decision-making and this depends on building strong relationships and trust, things that take time and effort. Unlearning & decolonising is a long, humbling process. Yet we need to focus on process, to show vulnerability with grantees and slowly (or quickly) shift to mainstreaming the model where grantees are also the grantmakers. Some people might not want to be gatekeepers of resources nor willing to govern funds, because things do often get messy when sums of money are thrown into the equation, so lots of nuanced conversations need to be had.
It is also crucial to maintain belief that another world is possible & going full in because the alternative is standing on the sidelines watching, ignoring or naysaying. We cannot just bet on things when they're safe, we need to bet on them when they're still uncertain. There will always be enough people betting on safe.
#2 Effective Altruism with Guest Speaker Prefers To Stay Anonymous
We have spent quite some time discussing Effective Altruism, this past year. EA considers itself a movement, and positions itself as a way for a small group of people to have a large effect on a problem, using impartiality, maximisation, scientific thinking and data. Instead of giving in a totally haphazard way, not doing any research, focusing on projects that boost your ego, never drawing comparisons, nor doing any reporting, yes, EA is a much better alternative, but it is also not a framework that we vibe with. Following this session, we wrote a longer op-ed on EA, and in broad strokes we conclude that EA is rooted in the values that are further cementing our current broken socio-economic system (and more general way of thinking & valuing), prioritizing efficiency and effectiveness over all the unquantifiable dimensions of human societies. It often disregards deeper issues of power, systemic injustices and political thinking that grassroots movements drive. It also provides wealth owners with a saviour narrative via a 'veil of impartiality' that might hinder deeper scrutiny into the origins of philanthropic money, and stifle personal transformation and planetary solidarity. It ignores the importance of 'warm data' in understanding systems change and the role of trust, human relationships, and participatory action as ingredients for the Just Transition.
#3 Funding during Covid-19 with Romy Krämer & Ivan March
Once Covid-19 exploded into pandemic proportions, we changed gears in order host a conversation about what funders can do to be responsive and caring during this unprecedented state of affairs. The first and easiest step is to listen, listen, listen. Showing genuine care goes a long a way, and exploring the needs of grantees as well as ways in which you can adequately support them boosts morale and shows preemptive consideration. One way we know the grantmakers can help (without even needing to listen) is offering financial flexibility. The pandemic was a major gamechanger, especially for activists who are so dependent on physical actions, community meetings and large group marches. Simple ways of doing this is to convert running grants into unrestricted funds or simply being okay with grantees to use money differently than had been initially discussed or offering additional funds for unforeseen needs. Following this line of thinking, it is crucial for funders to be flexible allowing for time schedules and activities to be adapted to the new reality and restrictions. Countering physical distancing with greater connectedness, checking in on collaborators, being kinder and more patient since everyone suddenly has much more on their plates. In addition, simplifying reporting and instead of adding more pressure on groups, give room for different ways of reporting that the grantees can choose themselves, such a calls or voicenotes and videos, especially useful for those who struggle with long write-ups. Funding inspirational storytelling, uplifting artivism and documentation of important, emerging narratives such as mutual solidarity responses to the pandemic. Concretely, we offered funding for: the podcast Covid-19 Chronicles, that explores the impact various government measures have had on people and how do they respond to it, Amplifier Art for an emergency campaign with art curators and public-health advisors from around the world to showcase symbols that help promote mental health, well-being & social change during the pandemic, and Shareable.net for The People's Response to Covid-19, with a focus on mutual-aid stories and how to build resilience and solidarity during crises.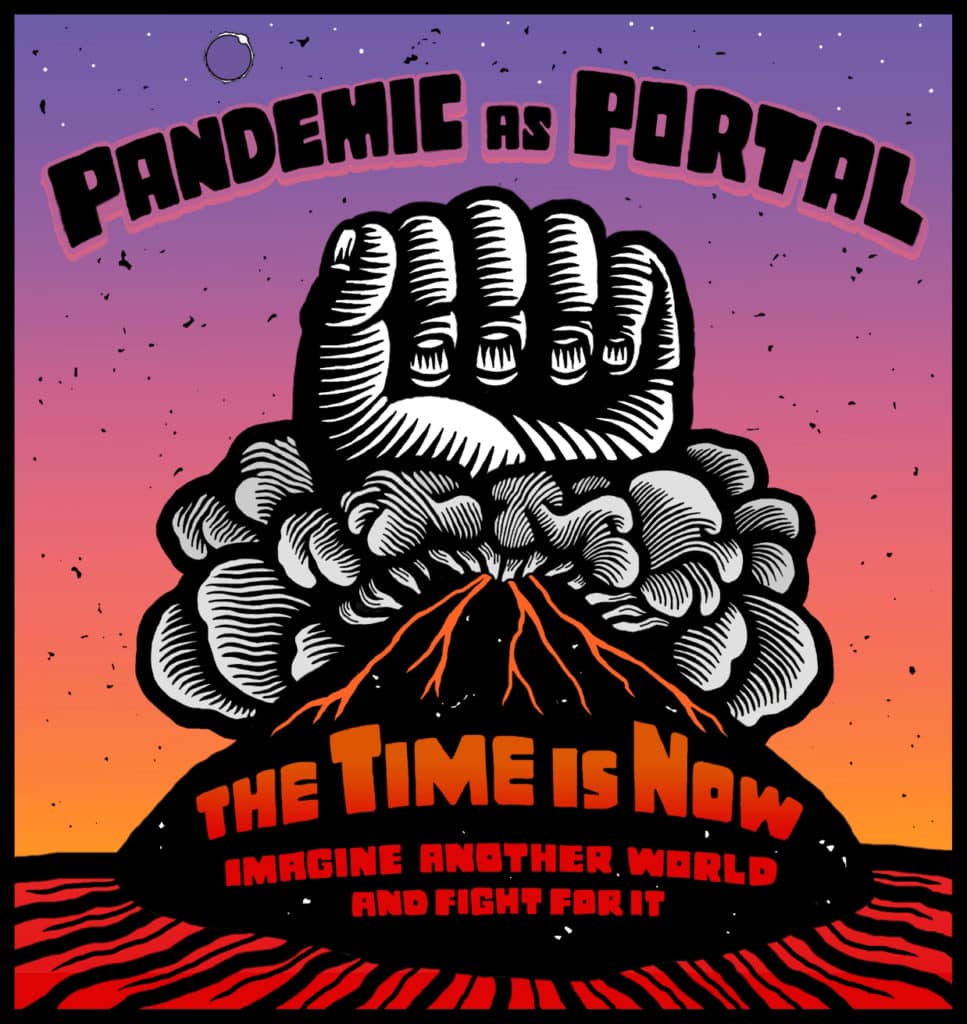 #4 Resourcing Climate Justice & the Solberga Foundation with Kristina Johansson
This session centred around the ins and outs of setting up a family foundation and how one develops a strategy to resource climate justice movements. We quickly concluded that it is important to realise the power/access that you have as a wealthy person and figure out how to use that and not just monetary wealth. Working with your family and finding alignment on values takes time and getting professional mediation support can really help. Kristina shared Solberga's evaluation criteria and we discussed that it's rather about the how & who gets mobilised than trying to fund a specific strategy to 'solve' the climate challenge. So what's the issue with mainland Europe and climate justice? Primarily a lack of working language around race & justice, a less developed philanthropic scene, and thus it is challenging to find movements of frontline communities and intersectional climate work outside the US & UK. What about giving up power and who decides on grants? Kristina works with paid advisors, part of the money goes to more participatory intermediary organisations, and they're planning to transition the family out of decision-making positions at Solberga in the long run. Tax justice was another hot topic, and an invitation was put forward for signing the Millionaires for Humanity letter. Tax justice and questioning the origin of philanthropic wealth is a very important facet of the radical philanthropic work that we're all extremely excited about. We also briefly touched upon the issue of not contributing to further division with our narratives as well as funding and Charles Eisenstein's book is a good resource for nerding out on this topic. In times like these, we need a story of hope. We watched a video that let us imagine what would happen if we actually pulled off the Green New Deal. What would that future look like? "A Message from the future" narrated by Alexandria Ocasio-Cortez & this article on lessons learned after 10 years of climate funding by Farhad Ebrahimi offer some answers. Kristina also dropped a list of nifty resources she found useful while designing the Solberga strategy:
#5 Wealth & Power & the Chorus Foundation with Farhad Ebrahimi
We kicked off this session with the mantra 'A New Hope Requires New Resources' and most participants had already read Farhad's thought piece "Beyond Rogue One: What Science Fiction Can Tell Us About Resisting Trump and Supporting Social Movements". Running the Chorus Foundation is a full-time commitment for Farhad and this was a conscious decision, one he puts forward to young wealth owners: Is philanthropy a primary mission or a side project for you? and how does this shape the strategy, values, processes? The primary vocation question is critical when we think about motivations of wealth owners.
"When it comes to private philanthropy, I'm an abolitionist" – Farhad Ebrahimi
Through this work he is constantly developing friendships and close relationships with people who are part of the movements that he supports. We dove into sunsetting or spending down (using up all your Foundation's grant-making budget) as a radical way to unlock and pour resources into communities, but thinking about sustainability of funding is important because one needs to ensure the resources are really going into those communities they work in, not just spending down, running out of money and community projects crumbling in the aftermath. Farhad also hammered the point that long-term, multi-year (8-10 years) funding is vital. We spent some time remembering that most folks are multi-dimensional, recalling the Ram Dass quote "if you think you're enlightened, go spend a week with your family". Most people have that one 'conservative uncle' in the family. Nobody should be defined by their political party affiliation, or the last vote they made, or whatever else. Finding common ground rather than what separates us is necessary. One way to do this is deep engagement, Farhad said "spend quality time with grantees & peers, because people take time to open up, spend time with community members, see things, socialise, be in the community, listening to people play banjo at the Eastern Kentucky Social Club, drink moonshine, participate in direct action, also spend more time with peers in philanthropy, offer mentorship & peer coaching for other philanthropists." It wouldn't have been a Rad Philanthropy Calling session without reading materials so we dropped: Resisting the Defeatism of Easy Despair, and What Victory Really Means for Movements of Social Change that focuses on Hope in the Dark by Rebecca Solnit.
#6 Warm Money – When Complexity meets Philanthropy with Nora Bateson & Phoebe Tickell
Nora Bateson's words set the frame, "this is system change. It is not manageable. Nor is it comfortable. It is not a surprise. While it can be said that change is a constant, there is no doubt of the increase in speed of change now. This is the beginning of rapid multiple layers of change, not the middle or the end." This is still something we're not talking about enough. The uncertainty, the not knowing. We rush to solutions (and solutionism) and seek to find answers that can comfort our fears about the injustices we are confronted with on a daily basis. Everyone should really read this article. We start with a quick low down or refresher about what exactly warm data is.
Our whole session was way more human conversation than an 'impact-oriented workshop'. There was space for doubt and questioning and curiosity as opposed to prepackaged answers. Nonetheless, warm data can function as a compass to navigating through the world, the complex, complex, complex world we live in. At the root, a quick realisation was that philanthropy is just a symptom of a deeply unjust system, so in terms of simplified systems thinking, 'the goal of philanthropy ought to be its abolition'. Alright, we're not there yet, so what can we do in the meantime while committing to radical transition?
We mainly sat with a diverse set of questions, thoughts and tensions. What are the questions we should be asking? Are our questions lacking imagination? (and perhaps morality?). A problem is not really a problem but a consequence of a condition. Philanthropy has contributed to the NGOisation of civil society and in turn has made it toothless and technocratic.
Systems change philanthropy/entrepreneurship/NGOisms are so very often a superficial language game, and that's uber frustrating. Sometimes everything within your mission statement might be keeping you from seeing things clearly. If it's not in your mission, what is it? Why is something not a fit? Can we have those conversations? Dissociated projects can fragment the community. Radical hope is dope. Like Phoebe said "we have an opportunity to re-imagine human and planetary flourishing, and to achieve this, we need radical hope." It is crucial to have the humility to admit we don't understand. Funder-grantee division needs to be broken up, and participatory methods are one way. Localise, localise, localise but remain tapped into global narratives. Learn to surf in the liminal spaces. Scale, scale, scale. We are borderline obsessed with it. It does not need to be massive in order to matter. The small and personal can ripple out into infinity. Maybe it is about building relationships first and then funding when we decide what is needed and how best to do it? How do you create relationships instead of separating them? Money is limited, but how can we use money to break up competition? How do we bring this way of reflecting in our own systems in our day-to-day, not just the professional space? How do we show up as whole people?! Avoid wasting energy telling the system how the system works. It always helps to feel less alone (so these types of calls really help). Relationships are key, this became clear. But what does a strong relationship mean? and what happens to a vibrant relationship when you put money in it?
The week after each session, we offer all the participants (as well as everyone else on our mailing list) a follow-up email containing all the books, articles, podcasts, films, quotes, and other resources mentioned during the call. We also try to make sense of the detailed note-taking, giving a short analysis of the main issues, patterns, questions and ideas that emerge, as well as the space for participants to put forward topics they are interested in or take on the speaker role if they're feeling particularly proactive. So if any of this sounded exciting to you, go ahead, it's very D.I.Y., organise your own community meet-ups and co-create some exciting, edgy, radical content with your peers. And revise, revise, revise. What aren't you discussing? Who isn't included? What matters you most? Why? And if you want support with your community building or to join our crew then drop us a line at hello@newgf.freepresshost.com and we'll get all radical and systems changey with you.