'Autonomy, a little think tank with big ideas about how to tackle the coronavirus & how to radically re-organise in its wake'
Bronnie Ware, an Australian palliative care nurse, recorded the dying epiphanies of patients she cared for in the final weeks of their lives, and she collected these into a book called The Top Five Regrets of the Dying. The second most common conclusion was: 'I wish I hadn't worked so hard'.

Autonomy is an independent, activist think tank with one focus: work. They write up understandable, jargon-free analyses, draw up socially relevant policy proposals and put up tangible solutions with which we can 'confront the changing reality of work in society today'.
When we funded Autonomy, we did so in order to back their pioneering promising track record on building post-work societies, based on the principles of freedom, equality and democracy. So how is all this relevant to Covid-19 and the current global pandemic?
The think tank team turned their sharp research skills & crafty imaginations to what they do best, creating clear, useful information & making clear, useful suggestions.
They cracked down on mapping how the coronavirus will effect the UK over the coming months and drafted clever solutions for curbing the damage, and in a few weeks Autonomy team did the following:
Created The Jobs at Risk Index (JARI) which shows which lines of work are at the highest risk of COVID-19 contagion, & they made regional & industrial forecasts regarding unemployment during & after the pandemic.
Proposed a fair and efficient delivery system for food & essentials.
Designed a decentralised and local sourcing system for PPE & Medical Supplies.
Co-signed an open letter to the UK government, for faster & more far-reaching action.

There is a lot of collated data on job risks, wages, and unemployment projections, the best part is that the charts are interactive & very user-friendly so people can intuitively navigate & absorb clear information. Some sobering highlights are that 'there are 1,060,400 people in High Risk jobs in the UK getting paid poverty wages. The average weekly wage for these High Risk jobs that pay below the poverty line is £355'.
The research also points to immense gender imbalance in terms of risk since 'out of 3,243,400 workers in 'High Risk' roles, around 2,522,900 (77%) are women.' When the economic variable is added to the equation, the injustice skyrockets as 'out of the 1,060,400 workers who are in High Risk roles and being paid poverty wages, 1,046,400 are women (98%). The majority of these women workers are in caring jobs.
This work was quickly picked up by The Guardian so it has fortunately received some early, mainstream exposure.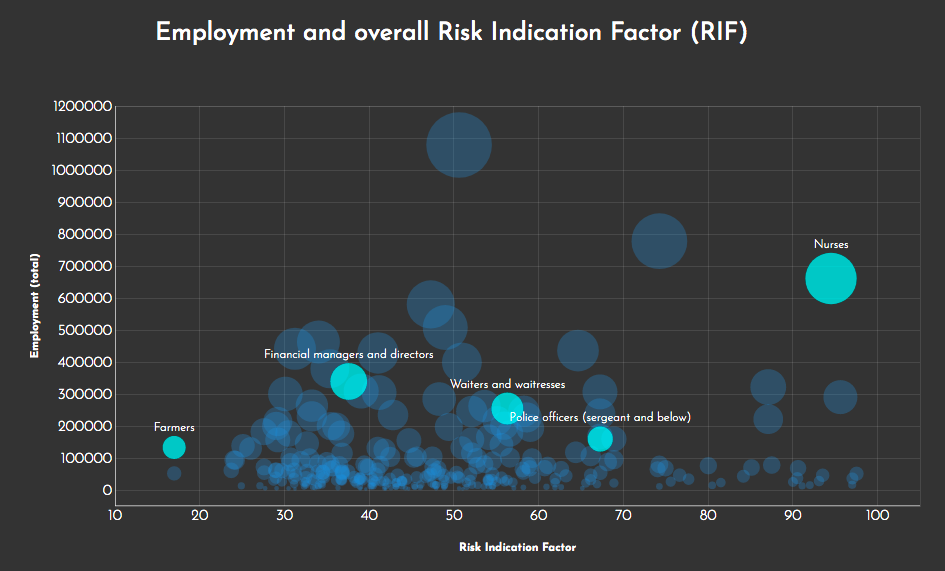 "Low-paid workers, women and migrants will bear the brunt of this crisis", writes Kane Shaw, the Editorial Lead of Campaigns at United Voices of the World (UVW) building on Autonomy's research.
He goes on, "22 out of the 28 most at-risk professions are classified as Key Workers. The workers most indispensable to tackling COVID-19. They are concentrated primarily in the healthcare sector and this includes cleaners and porters, many of whom were, until recently, classified as 'unskilled' and who despite the clapping continue to find themselves underpaid and, in many cases, outsourced.
Autonomy's findings strengthen our arguments that the workers upon whom we all rely have, for far too long, been subject to disgraceful levels of pay and morally indefensible terms and conditions of employment.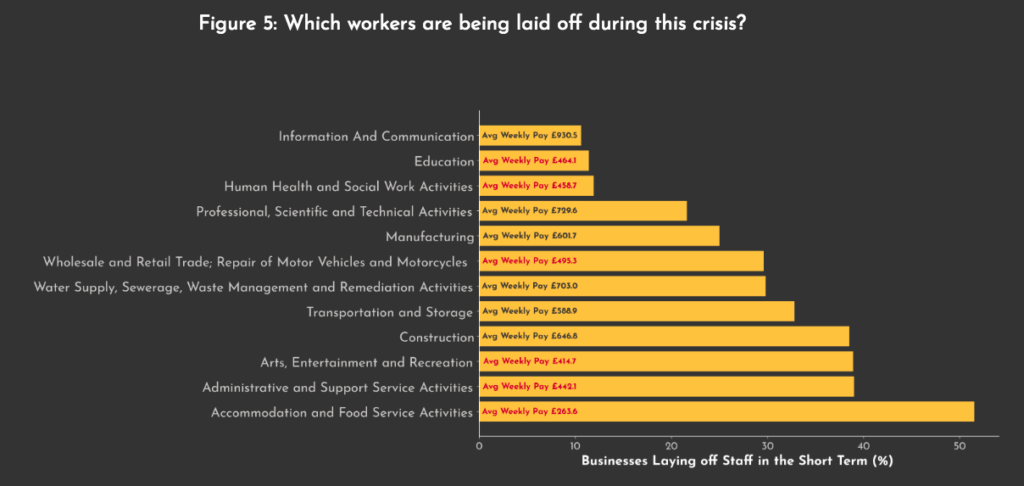 Over the coming months, increasing numbers of people will be forced to self-isolate, with as much as four out of five UK citizens contracting the virus. At the peak of the pandemic somewhere between 1 million and 3 million people may be self-isolating at once.
One of the key places social distancing still poses a challenge is supermarket shopping. To make sure these measures are effective, an increasing amount of day-to-day goods will need to be delivered as opposed to bought in-store.
In short, by themselves supermarkets are neither capable of meeting the demand nor should they have to. The state needs to step in. Food policy experts at the University of London have written a letter to the government stating food planning is in crisis and that a rationing system should be implemented immediately. The Autonomy crew quickly proposed "a comprehensive central planning system to distribute basic essentials via a fair and efficient delivery system. The system would be aimed at providing day-to-day essential items for those who are housebound, either due to disabilities and long-term illness or who are self-isolating due to the virus."
It would involve:
+ Governmental repurposing of supermarket inventories and supply chains.
+ State coordination of storage spaces.
+ 'Essentials packs' (personalized packages containing a range of day-to-day items, including basic food ingredients, toilet paper, paracetamol and hygiene products.)
+ Contract communications services
+ Build a central logistics system
+ A contingency plan for the hospitality industry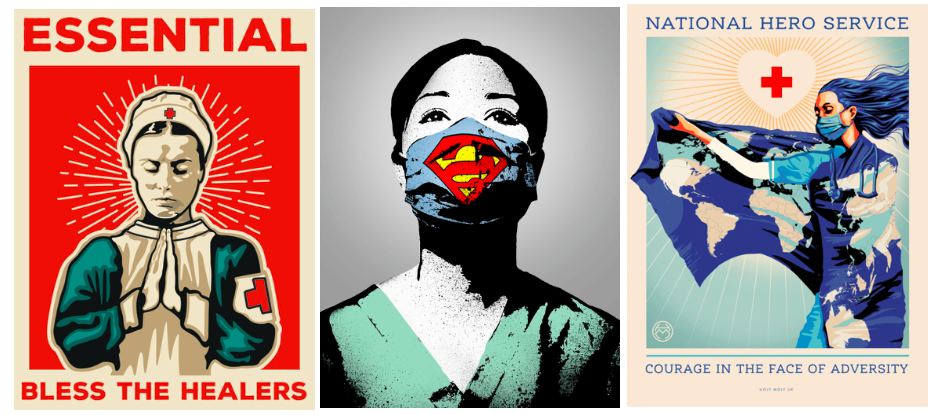 While Trump is dismissing the shortage of PPE (Personal Protective Equipment) as 'Fake News', healthcare workers in the U.S. as well as the UK (and numerous other countries) are insisting that the shortages are real and serious. A study by the University of Cambridge found that if the virus continues to grow exponentially in the UK, five out of seven of the UK's regions will have more cases than there are ICU (intensive care unit) beds available. This is placing unprecedented strain on the NHS, which was already described in a report by the Royal College of Physicians in 2016 as 'underfunded, under-doctored and overstretched'.
Autonomy outlines the PPE & medical equipment shortage situation as follows:
The scale and speed required for the production and distribution of these items is unprecedented, and will rely on significant cooperation between medical facilities, manufacturers and designers.
To make this demand can be met, they suggest Medisyn, a central logistics platform, to connect hospitals and medical facilities with manufacturers, small fabrication hubs and designers.
Many manufacturers in the UK are already repurposing their plants to produce essential medical items. These initiatives are both useful and laudable, but are happening independently and separately as opposed to collectively and collaboratively.
Through this proposed central logistics system (Medisyn) hospitals, care homes and pharmacies can easily place orders for items they are running low on.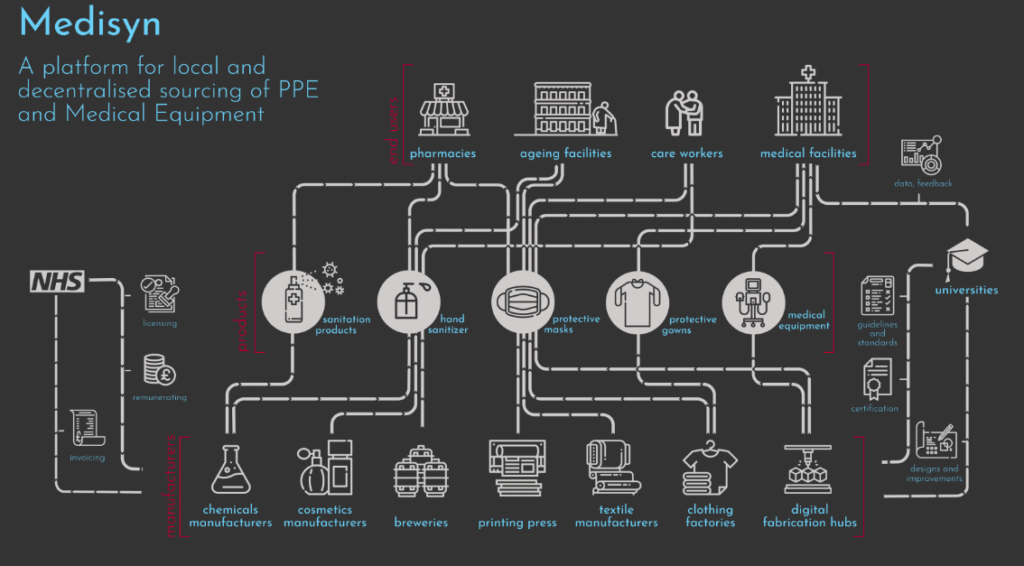 Moreover, about 60% of the UK's medical equipment is imported from abroad, the majority of which is from the EU. And while there is overdemand in many EU countries, transnational supply chains may nationalise, meaning that countries that manufacture the goods could stop or drastically reduce exporting abroad. This would mean that the UK is left with even more severe shortages of essential PPE and medical devices, unless other and/or local supply chains are developed rapidly.

Social anthropologist Jason Hickel recently tweeted, that "Capitalism has proliferated 34 varieties of Pringles, 40 different Barbies, and ballistic missiles with a range of 16,000 kilometers but for some reason we cannot produce enough masks and ventilators for basic public health." He is calling out the market-worshipping narrative for all its inhumanity particularly in a crisis situation and to drive the political point home he added some days later, "if a government cannot supply basic PPE to frontline healthcare workers and cannot give basic food to 1.5million people who are starving then it is not a government at all. It is a failed state."
Together with another 97 economists, academics & directors of research organisations, Will Stronge, the cofounder of Autonomy, co-signed an open letter to the UK government, for faster & more far-reaching action. You can read the whole letter here, but the main focal points are:
Stipulations against layoffs need to be in place. Financial support for firms must come with conditionality: at a minimum, no workers are to be laid off. People are losing their jobs right now – the government must act immediately to stem the flow.
The self-employed are left out in the cold and need urgent support. While a worker on PAYE could receive up to £2,500 per month, a self-employed worker might only receive statutory sick pay – £94.25 per week.
Universal Credit will not be able to cope or deliver. Universal Credit is going to wilt under the pressure of new unemployed applicants in the coming weeks and months. Other than a minor improvement in levels of income support, no support has been announced for those outside of formal employment, unemployed persons, those receiving personal independence payment, or others without a current employer such as university students.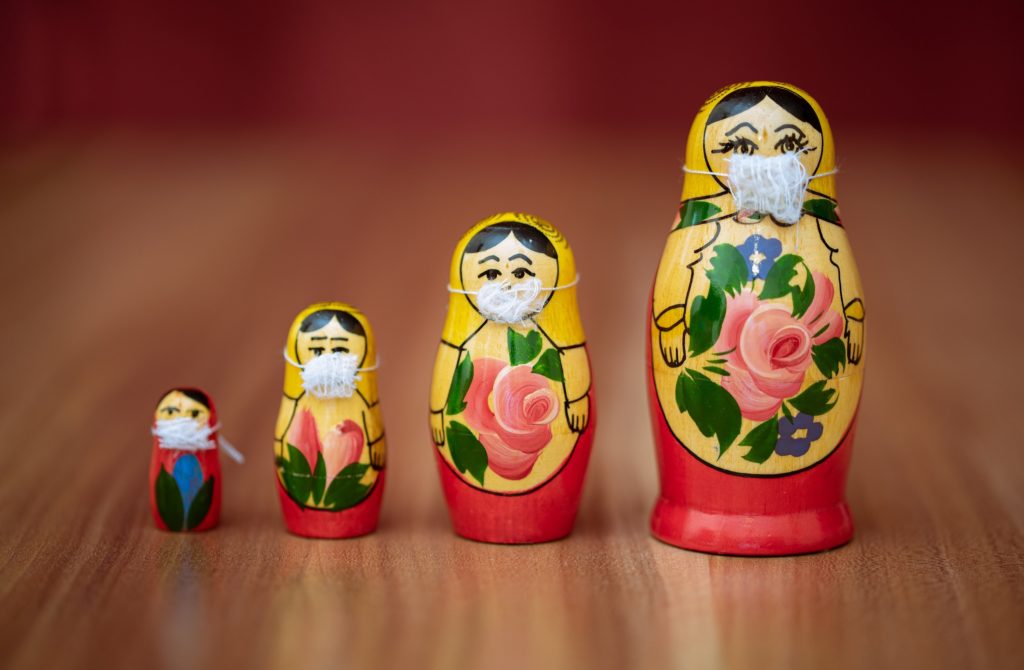 The letter is not just critique. It acknowledges all the commendable decisions the UK government is taking, however, it also demands more, it aims to hold politicians accountable using research and human-centric, analytical thinking, as a good, activist think tank ought to do.
And so to any progressively minded funders out there, if you bank on people with good ideas, they'll do important, relevant work no matter the circumstances. They'll reinvent, repurpose, refocus.
In his 2018 book, Bullshit Jobs: A Theory anthropologist David Graeber argues the existence and societal harm of meaningless jobs. He contends that "over 50% of societal work is pointless, which becomes psychologically destructive when paired with a work ethic that associates work with self-worth." Paired with The Top Five Regrets of the Dying, at a time when we are confronted by our own morality more than ever, means that right now we have an opportunity to rethink some things, to reflect whether we want to be wage slaves or whether we can enact radical political change that will ensure wellbeing above financial productivity. Hickel summarized it best "the Covid 19 crisis and the ecological crisis are ultimately teaching us the same thing: that we need to build economies that are organised around life, rather than around capital accumulation" and it is precisely the work that Autonomy is doing will help us build economies that organise around life.