The sun is rising on a new day for Colombians, especially for those that Vice President-elect Francia Marquez calls the "no one's": indigenous communities, afro-colombians, working class, women and gender diverse, LGBTQ+, disabled people and all those who have been disproportionately impacted by over five centuries of poverty, state violence, discrimination and enviromental distruction. Today, the "no one's" reclaimed the streets of Colombia to celebrate the end of what the Zapatistas in Mexico refer to as "the long night". While the red carpet was rolled out for President Ivan Duque, currently under house arrest for violating a court order, many Colombians travelled up to 2 days to cast their votes – votes that have brought about a momentous change in the course of the nation.
In a historic win, Gustavo Petro and Francia Marquez managed to secure more than 50% of all votes in the runoff presidential election, making their "Pacto Historico" the first progressive government in 214 years. This was not an easy campaign — Left political parties in Colombia have a history of systemic extermination by the country's elites that are used to controlling the media and using violence to maintain their political power. This election was no exception, in the second round Gustavo and Francia ran against Rodolfo Hernadez, a private developer sponsored by the right wing political party "Centro democratico" that has been in power for over two decades.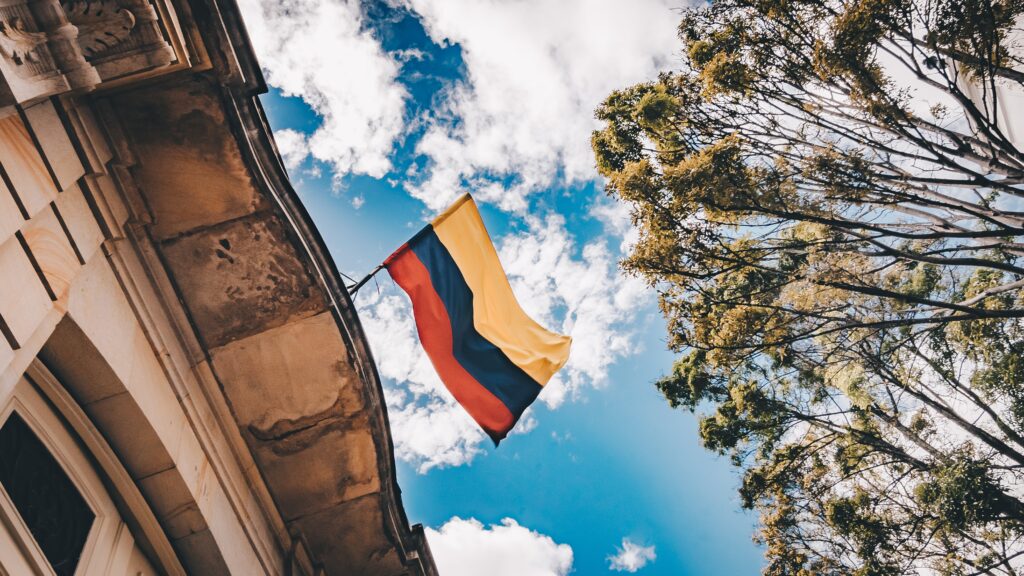 A movement building moment worked by many over decades
Despite a very dirty campaign by Rodolfo Hernandez from the anti-corruption alliance who is appearing in court over his own corruption case, millions of people across Colombia came out to vote, making this election the biggest turnout in history. But this political conjunction was not a coincidence, Petro and Marquez have a very long history of grassroots organising and coalition building that allowed them to bring together strategic sectors for this election. This grassroots organising helped build the strategic power that led to this moment.
A sign of things to come could be seen in 2021 when, after decades of political organising, Colombia became the country with the most progressive abortion laws in America and the Caribbean. But the tipping point came at the end of 2019, when the right wing government of President Ivan Duque proposed to lower the minimum wage for workers under 25 years old, young people tired of decades of austerity and marginalisation, took to the streets across Colombia initiating a national strike (paro nacional) that brought the country to a standstill for weeks and that resumed even during the height of the pandemic in 2021. Many people were inspired to take to the streets in support of public education, better public transportation, improving the country's unequal health system, and out of a general dissatisfaction with the government.
By November 2019, almost every city in the country took to the streets, despite the increasing state violence ordered by president Duque, who extolled the work of the country's anti-riot squat ESMAD to defend private property, leaving at least 44 protesters killed and hundreds injured during the 2021 protests.
When Petro and Francia Marquez started their 2022 electoral campaign, the unresolved questions of the paro nacional were in people's psyches and everyday realities — yet the Pacto Historico still ran on a modest manifesto, promising a tax reform that would create a financial buffer of at least 50 billion pesos (around GBP£11 million) which would go towards a social reform aiming to improve the country's education and health system and a just transition away from fossil fuel dependence. Some people still argue that their proposals are too ambitious, especially because the tax reform is targeted at big corporations and families accustomed to having their government on duty doing what they say. The next 4 years will be extremely difficult for Petro and the Pacto Historico as they face a bruised opposition wanting to take back control.
A commitment to climate justice and a just transition
In their victory speeches, Petro and Marquez committed Colombia to be a leader when it comes to tackling climate change, and in particular to saving the Amazon rainforest. Petro explicitly called upon other progressive leaders in Latin America to break with the thinking of the first pink tide by forgoing fossil fuels – the current high prices of coal, oil, and gas cannot be the basis for future economic and social justice, he said.
This is a reiteration of one of the most important pledges from their manifesto, which has already drawn public support from Naomi Klein, Vandana Shiva, Bill McKibben, Noam Chomsky, and many other thought-leaders. The incoming government aims to reduce Colombia's dependence on fossil fuels and has tabled proposals such as an immediate ban on exploration and exploitation of unconventional oil fields, fracking pilot projects, and the development of offshore wells, and an end to new licences for fossil fuel exploration. They also propose that Colombia's existing supply be only for "domestic consumption under technical and socio-economic criteria that allow for greater efficiency in their use and a higher rate of energy return."
Instead of fossil fuel production and consumption which has brought so much destruction, displacement and violence to Colombia, Gustavo Petro and Francia Marquez are committed to building an economy for life starting with the implementation of the peace accords signed in 2017 and consistently disregarded by president Duque. The just transition that Colombia is about to undertake would be a beacon of hope for environmental movements around the world, given the general trend towards greater fossil fuel extraction even in the midst of a rapidly deepening climate crisis.
Coalition building and grassroots organising
This election should be of particular importance for social movements around the world as the setting in which they took place reflects challenges for the political left everywhere. For example, in Colombia and places like the UK and the US that have recently had strong left-wing candidates, the right has been very successful in pushing the electorate to vote using fear campaigns. In Colombia during these elections, the right endlessly highlighted Petro's involvement in the M19 guerrilla, which demobilised during the 1990's. When that did not have the desired effect, they deployed other narratives and lies around Petro and Francia's manifesto. But these smear campaigns were not powerful enough this time, thanks to Petro and Francia working with social movements for decades and having built strong ties and connections with indigenous communities, afro communities, peasants, women and gender diverse people amongst other constituencies. These connections gave them the impetus to bring together the Pacto historico that took them to power, after trying a few other coalitions like "Soy porque somos", el "Polo Democratico' ' and the Colombia humana. This election is a win not only for Colombians or the nadies in Colombia, this win is the beginning of a new era in Latin America, the resurgence of a new kind of pink tide led by Chile, Honduras and now Colombia. Rather than what we have seen in recent decades, this is a tide that represents a socialism with climate justice at its core, ready to make transformational changes to the ways we live and relate to each other, with governments that are prepared to work with social movements to ensure that the majority will not have to live in fear of hunger and violence and that there will never again be a Colombia ruled without them, los de abajo, los nadies. ¡Vamos a vivir sabroso!
Nathan Thanki is a human ecologist and writer. Currently based in Ibagué, Colombia.
Tatiana Garavito is a facilitator and organiser working on the intersections of race, gender & climate justice.